Mark Webber column

By Mark Webber
Red Bull driver
Last updated on .From the section Formula 1
The Abu Dhabi Grand Prix put the focus in Formula 1 back on to one of this year's key innovations, which has been out of the spotlight in recent races.
The DRS does what it says on the tin. We press a button in the cockpit, which lifts the upper rear wing flap. That stops the wing working as well - or 'stalls' it, as aerodynamicists describe it - which reduces drag and therefore increases straight-line speed.
In the first two Abu Dhabi races in 2009 and 2010, overtaking was particularly difficult, so everyone was interested to see what sort of an effect the DRS would have.
The teams and the sport's authorities are taking the right approach with DRS. They're trying to reach a point where, among evenly matched cars, overtaking is possible but still a real challenge.
We are approaching each race this year 'blind', so inevitably there is a bit of trial and error involved, along with a lot of science.
Inevitably, there have been some races where overtaking has been a bit too easy, such as China, Belgium and Turkey, others where it has still been too hard, such as Valencia, Barcelona and Korea, and others where it has been bang on. That's to be expected.
In Abu Dhabi, they used two zones, the second immediately following the first. After the drivers discovered in practice that passing was still pretty tough, they lengthened the first one before the race.
In the end, though, the problem was that if you overtook someone in the first zone, the chances were you would get re-passed in the second - as I found out in my battle with Jenson Button. It probably would have been better in hindsight to have just one zone.
It is a difficult subject to get right - and I'm sure with all the information gathered this season, it will be a lot closer to perfect next season.
DRS is a controversial issue, not least because a lot of it depends on your point of view.
Some people will like to see cars passing and re-passing all the time. Nascar stock-car racing in America is founded on that. But for some who have a more purist point of view about F1 - like me - overtaking should mean more than that.
They've done a good job so far and I'm sure the teams and the FIA will get the balance a bit better at some of the tracks next year.
There's plenty to go into over the winter and part of the discussion will be a change the drivers would like to see.
At the moment, in the race you can only use the DRS in the designated zones - and then only if you are within a second of the car in front at the 'detection point'. But in practice and qualifying you can use it whenever you like.
That has led to a few incidents this year where people have gone off because they were pushing the boundaries of using the DRS.
Renault's Bruno Senna had a crash in Suzuka, I had one on Friday in Hungary, and one of my team-mate Sebastian Vettel's practice crashes was caused by that, too.
So the drivers are almost unanimous that they would prefer the use of DRS outside of a race to be limited - to just the DRS zone and perhaps a couple of key straights, plus a restriction on the point at which you deploy it so you're not too close to the exit of a corner.
DRS has been a successful device for what it was intended for - racing on Sundays.
PIT-STOP PROBLEMS
The DRS played a big role in my race in Abu Dhabi. Early in the race, Jenson Button and I were fighting over third place, and I just could not make an overtaking move stick.
The problem was that there was no point passing Jenson into Turns Eight and Nine at the end of the first DRS zone because I would just get passed back in the next one, down the following straight into Turn 11.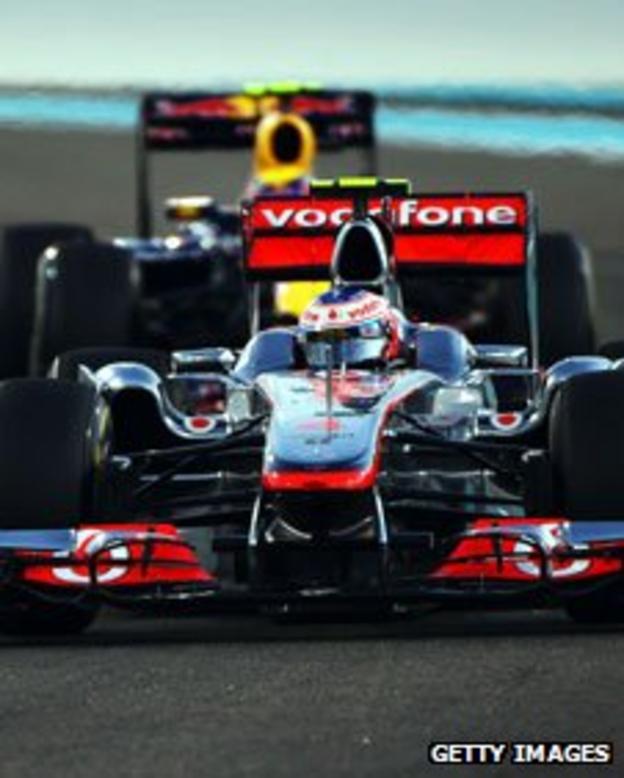 I did eventually get Jenson, and we had a good side-by-side battle through the chicane at Turns 11, 12 and 13, but he got me back into Turn 14.
That was good racing but I was disappointed not to finish off the move. JB was driving well without his Kers power-boost at that point.
It was stalemate, really. I could have risked more, but it was still reasonably early in the race and there was plenty of time to take the battle later into the grand prix.
That didn't work out, though, because of a problem fitting one of my wheels at my first pit stop, which cost me five or six seconds to Jenson and put me behind Felipe Massa's Ferrari as well.
In an attempt to get past them both, we decided to do an extra stop, to give me more time on the faster 'option' tyre - which meant making my final stop at the start of the last lap.
There was nothing to lose - if I'd stuck with two stops, I might well have finished fifth behind Massa. The extra stint on the softer tyre worked easily in getting me past Felipe. But I'd lost too much time to Jenson earlier on to make third.
Without the pit-stop problem, I'd have had a decent chance of fighting him much harder for the final podium place.
IN A FLAP
You may have noticed that there was something flapping under my car during the race - it was mentioned in the BBC commentary by Martin Brundle and David Coulthard, who thought it might be bodywork damage.
It turned out it was a piece of my team-mate Sebastian Vettel's punctured tyre from his first-lap incident.
I think I picked it up on the second lap on the back straight, where there was quite a bit of debris left by Seb's attempt to get the car back to the pits.
It smashed the left barge-board back and got pinned on to the car at the front of the floor. The guys were not able to get in there and remove it because the pit stops are normally so fast these days.
That cost me a fair bit of aerodynamic performance.
The cars are not designed to carry bits of flapping rubber around. And the bargeboards - the curved bits of bodywork behind the front wheels - are pretty important in terms smoothing the airflow.
FAIR PLAY TO LEWIS
I left Abu Dhabi with some mixed feelings. I enjoyed the grand prix because I had some good battles, but fourth is obviously not where I want to finish.
Lewis Hamilton drove well to take his third win of the season - and Fernando Alonso kept him under pressure with his usual strong race.
But it's impossible to know whether either of them would have beaten Seb if he hadn't had his puncture.
Given Seb's form this year, you would imagine he would have been quite hard to beat, but it was a pretty dominant victory from Lewis, and he deserved it because that's whom he beat on the day.
From my point of view, we're still doing a lot of things right, but there are some key ingredients I need to look at to be in better shape for next year. I'll be working hard on that over the winter.