McLaren want quick start to 2012, says Martin Whitmarsh
Last updated on .From the section Formula 1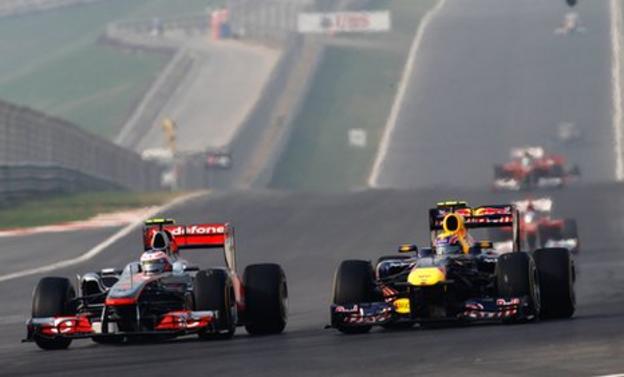 McLaren must not repeat the mistakes that blunted their 2011 title challenge next season, team boss Martin Whitmarsh has warned.
They struggled in testing and started the season behind eventual champions Red Bull, but have now won six races.
"We had a slow start this year," said Whitmarsh. "By the standards of McLaren this has not been a vintage year.
"We have to get out of the blocks quickly and make sure we are winning races. We're optimistic."
Lewis Hamilton's victory in the Abu Dhabi Grand Prix saw McLaren chalk up their sixth win of 2011.
But the Woking-based team's tally pales in comparison to the 11 wins that have taken Sebastian Vettel and Red Bull to back-to-back world titles.
With relative stability in next season's regulations, McLaren are now focusing their effort on overhauling their rivals when testing begins in February.
"We need to start next year quick," underlined McLaren's managing director Jonathan Neale at the team's Woking headquarters.
"We've shown that we can out-develop and stay close to everybody; we have consistently won races, we're consistently on the podium but we need some more championships - that's a frustration - so we've got to get out of the blocks.
"There has got to be bullet-proof reliability and the car has to be something the drivers feel confident in, something that they can really get hold of and exploit.
"Lewis and Jenson [Button] are back-to-back world champions and deserve the best so that's a clear target."
In the short term, McLaren are targeting a final flourish in the last race of 2011 on Sao Paulo's fast-and-flowing Interlagos circuit on 27 November.
"What remains to be done is to travel to Brazil next week and win the race," continued Whitmarsh.
"We've very proud of the performance in Abu Dhabi - to win that race brings us to six victories and we'd like to make it seven."
Hamilton's first win at the Yas Marina circuit last weekend means the two McLaren drivers have three race wins apiece, although Button is now certain to finish above Hamilton in the drivers' standings.
Whitmarsh said in Abu Dhabi that he anticipates both men will fight hard to "be the driver who comes out of the year with four wins".
Hamilton and Button both made cameo appearances at McLaren's Technology Centre on Thursday as the team unveiled their new Production Centre, which manufactures their high-performance MP4-12C sports car.
Prime minister David Cameron opened the new £50m factory in Surrey, which is expected to create up to 350 new jobs.
"Formula 1 is an incredible British success story," commented Cameron. "It's not just every time that Jenson or Lewis crosses the winning line, it's every time [Michael] Schumacher or [Rubens] Barrichello roars off the starting grid, they are doing so in cars that are built right here in Britain."
McLaren also explained how their technologies are now being used by the British Olympic Association and in other sports such as cycling, as well as in the commercial world of aeronautics, railways, air traffic control systems and medicine.
But McLaren chairman and former F1 team boss Ron Dennis said the sport would remain central to the company's future.
"McLaren will always be a Formula 1 team and F1 will always be a core part of McLaren's business," Dennis said.