HRT sign McLaren reserve Pedro de la Rosa for 2012
Last updated on .From the section Formula 1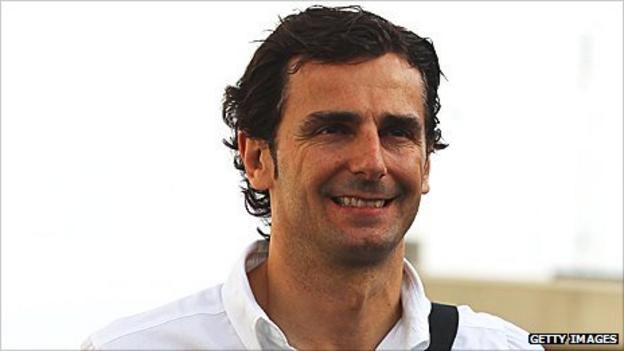 Pedro de la Rosa will return to racing in 2012 after signing a two-year deal with the Spanish HRT team.
The 40-year-old, who contested 14 races for Sauber in 2010, leaves his role as McLaren reserve.
"This is a very important step in my sporting career," said De la Rosa. "I'm at a very good stage in terms of maturity and am prepared to take on this challenge."
HRT have not yet confirmed their second driver for next season.
There are three drivers who still have ties to the team.
Italian Tonio Liuzzi joined HRT in 2011 from Force India while Australian Daniel Ricciardo, who is on loan from Toro Rosso, became Indian Narain Karthikeyan's regular replacement midway through the season.
But backmarkers HRT have now turned to the experienced De la Rosa to spearhead their third season in Formula 1.
Team boss Colin Kolles said: "The addition of Pedro de la Rosa for next year will be a fundamental foundation in the development of our project.
"We are a young team that needs to continue progressing and with this incorporation I am convinced that we will do just that.
"Apart from being a great person he is an experienced driver as his career and prestige in F1 prove."
De la Rosa joined McLaren in 2003 as their test driver and was called upon to deputise for Juan Pablo Montoya in eight races, taking his first podium in 2006 when he finished second behind Jenson Button at the Hungarian Grand Prix.
The Spanish racer then continued his role as test driver before signing for Sauber in 2010 only to return to McLaren in 2011.
"When deciding on joining this project, for me there were three decisive factors," explained De la Rosa.
"My desire to return to active competition, the fact that HRT is a Spanish team and getting to know the people leading this project.
"I'm here to work hard, accepting where we are now but keeping in mind where we want to be in two years' time."
De la Rosa last race was at this year's Canadian Grand Prix where he finished 14th after standing in for Sauber driver Sergio Perez.
HRT have yet to come close to scoring a point since their debut in 2010.
Taken over by Spain's Thesan Capital in July, they have appointed former Minardi grand prix driver Luis Perez-Sala as a sports adviser.