Injured Renault driver Robert Kubica is not writing off 2012 season
Last updated on .From the section Formula 1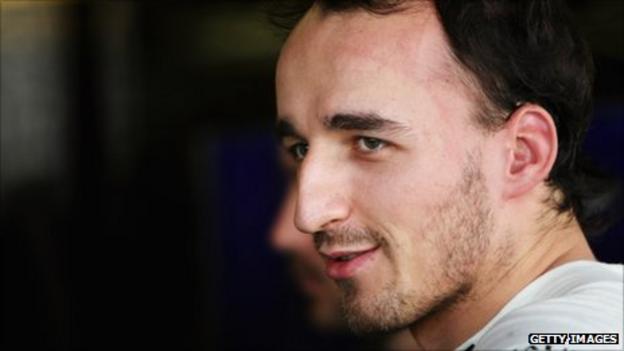 Robert Kubica is fully focussed on returning in 2012 despite a statement from Renault saying the injured Polish driver will miss the start of the year.
His manager Daniele Morelli said Renault had misquoted Kubica, who is recovering from a serious rally crash.
"I have decided to clarify the Renault statement because I didn't want to give the impression we have written off the 2012 season," said Morelli.
"This isn't true. He may not be ready for the February tests, that's all."
Renault issued a statement on Wednesday which included quotes from Kubica saying: "I came to the conclusion that I am not yet certain to be ready for the 2012 season."
But Morelli said the team "misunderstood" what Kubica meant.
"Maybe just for a need for brevity Robert's words were summarised as the 2012 season which is not in reality what Robert meant," Morelli told BBC Sport.
He said in fact they simply could not guarantee that Kubica would be ready for the start of next season.
Renault boss Eric Boullier, who was in Sao Paolo preparing for the season-ending Brazilian Grand Prix, has responded with puzzlement to Morelli's counter-statement.
"We agreed, because obviously Robert couldn't start the season next year with us or anybody actually, with Daniele Morelli to make a communication, at least we inform people what is going on," he told Reuters.
"He approved the communication so everything was fine. He approved it, I can show you the email. And now he is upset with I don't know what."
Kubica suffered terrible injuries in a high-speed crash on the first stage of the Ronde di Andora rally in Italy on 6 February just days after the first pre-season test.
He suffered partial amputation of his forearm and numerous fractures to his right elbow, shoulder and leg and has endured a long and frustrating road to recovery.
Despite question marks over his ability to drive, Kubica has still found himself in demand.
Renault said in their statement that they had opened talks with the 26-year-old about the 2013 season, when he has also been linked with a potential move to Ferrari in place of Felipe Massa.
But Morelli said Kubica did not want to miss a year, but accepted Renault was free to find alternative solutions.
He said Kubica was a "highly-rated, young driver" who would return at the same level as before the crash.
Kubica will have an external fixation, used to set bones, removed from his right elbow next week which means he will be able to freely move his arm for the first time since his accident.
Morelli said Kubica needed a couple of months training to recover the sufficient strength in his arm to hold a steering wheel, and also rebuild his general fitness.