McLaren award British teenager Oliver Rowland a Formula 1 test drive
Last updated on .From the section Formula 1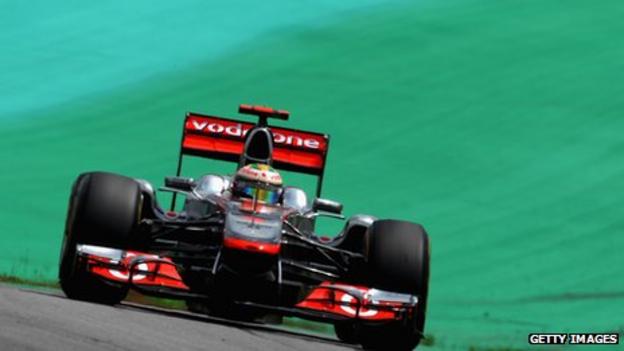 Formula 1 team McLaren have awarded British teenage driver Oliver Rowland a test drive.
Rowland was runner-up in the Formula Renault UK race series in 2011.
He said: "I've had lots to learn in my first year of Formula Renault. I have learned a lot and, now I'm here, I just can't believe it."
The award is backed by McLaren, motorsport magazine Autosport and the BRDC. It was set up in 1989 to acknowledge young racing drivers from the UK.
Former recipients of the award include David Coulthard in 1989, IndyCar champion Dario Franchitti in 1992 - plus current F1 drivers Jenson Button in 1998 and Paul di Resta in 2004.
Alex Lynn, Tom Blomqvist, Scott Malvern, Emil Bernstorff and Dino Zamparelli were the other finalists.
The six drivers were tested at a wet and windy Silverstone in November. They drove a Formula 2 single-seater, a Mercedes DTM machine and a McLaren GT3 car, before taking part in interviews with the judging panel.
Germany's Sebastian Vettel, a double world champion after winning his second successive Formula 1 title with Red Bull this year, was named as International Racing Driver of the Year.
Force India F1 driver Di Resta was named Rookie of the Year.
Briton Dan Wheldon, a two-times winner of the Indy 500 who died in a crash at Las Vegas Motor Speedway in October, was posthumously awarded a lifetime achievement award accepted by his father Clive.
Meanwhile, McLaren have become the first carbon-neutral Formula One team. The team released a statement saying: "By implementing a series of efficiency-driven measures within the McLaren Technology Centre, we were able to achieve annual savings of more than 1,500 tonnes of CO2 emissions."