Formula 1 testing - Mercedes delay 2012 car's track debut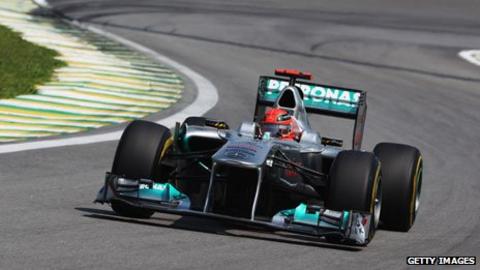 Mercedes will wait until 21 February - less than a month before the start of the 2012 Formula 1 season - to give their new car its track debut.
With the season beginning in Australia on 18 March, the team will have only eight days of testing.
Chief executive Nick Fry said: "It's not a big problem, it's a very deliberate decision on our part for a variety of reasons.
"[We are] giving ourselves the maximum amount of time to develop performance."
With teams unable to test until they have passed the mandatory FIA race crash tests, many face a decision whether to sign off the design early and test on track or spend longer in the development phase at the expense of actual test laps.
Mercedes, who will be called Mercedes AMG Petronas next season, have chosen to miss the opening session in Jerez from 7 February, instead testing in Barcelona from 21-24 February and 1-4 March.
Fry added: "Because the two tests are two weeks apart, we believe we are better off spending that additional time on developing the performance side.
"Most of the top teams are now very good at simulation. You can rest assured that before the car physically hits the track we will have done a substantial amount of work here at the factory both rig testing the car in its entirety, rig testing parts of the car and also of course working on the driver in the simulator."
And Fry, who helped the Mercedes team's predecessor Brawn to both the drivers' and constructors' titles in 2009, added that they had triumphed that year with only a minimal amount of testing.
With Nico Rosberg seventh and Michael Schumacher eighth in the drivers' championship in 2011, Mercedes finished fourth in the team standings, prompting BBC pundit Eddie Jordan to suggest they were not living up to expectations.
But team principal Ross Brawn is hopeful of moving up the grid next year, stating: "At the factory, we have been focused for some time on the challenge of 2012, and our very clear ambition to move forward up the grid.
"We believe that the decision to run the car at the second winter test is the optimum compromise for our design and development programme with F1 W03."