Former British F1 driver Peter Gethin, dies aged 71
Last updated on .From the section Formula 1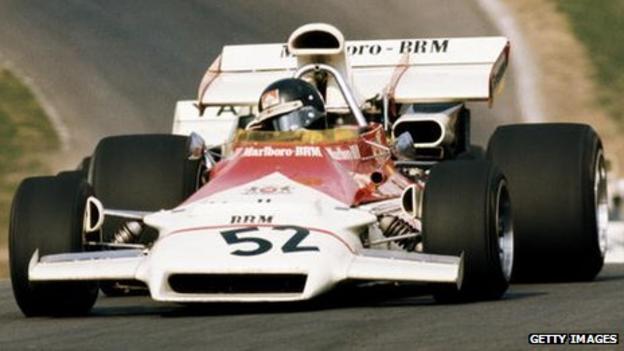 British driver Peter Gethin, the winner of the closest race in Formula 1 history, has died aged 71.
The former BRM, McLaren and Embassy Hill Lola driver, won the 1971 Italian Grand Prix that featured just 0.61 seconds between the top five finishers.
Gethin was also twice the winner of the Formula 5000 British title and the Canadian-American Challenge Cup.
Born in Surrey, he was the son of jockey Ken Gethin, who won both the 1,000 Guineas and Coronation Stakes.
Gethin made his Formula 1 debut in 1970 for McLaren following the death of the team's founder, Bruce McLaren.
The New Zealander died in a testing accident at Goodwood and Gethin, subsequently, took the vacant seat.
Gethin was best known for his victory at the 1971 Grand Prix in Monza, where he took victory for BRM by just 0.01secs from Ronnie Peterson.
The race was the fastest average speed in F1 history, until the record was broken by Ferrari's Michael Schumacher at the same race in 2003.
He never stood on the podium again at that level and finished with 30 starts, one win and 11 points in a career lasting just four years.
Gethin did pick up a pair of non-championship wins at Brands Hatch, triumphing in the World Championship Victory Race in 1971 and the Race of Champions in 1973.
He added the 1974 Tasman Series F5000 crown and claimed a last major victory in a Can-Am race at Road America in 1977.
Gethin also had a short stint as Toleman team manager in 1984, the year Ayrton Senna made his grand prix debut with the team, which has since been through various guises as Benetton, Renault and, for 2012, Lotus.
He set up Peter Gethin Racing, which competed in F3000 in the late 1980s before, in later life, running a driving school at Goodwood.