Future of Formula 1 Teams' Association in doubt
By Andrew Benson
BBC Sport
Last updated on .From the section Formula 1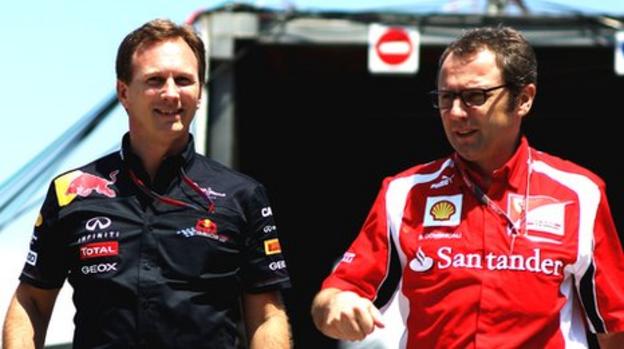 The future of the Formula 1 Teams' Association is in the balance after a number of high-profile defections.
Red Bull junior team Toro Rosso's place is considered untenable. HRT quit the organisation in January.
The remaining seven teams are in talks about the survival of the umbrella group for their collective benefit.
A spokesman for Renault/Lotus, whose team principal Eric Boullier is the vice-chairman of Fota, said: "A lot of talks are going on but, so far, our team is still a member of Fota."
A Force India spokesman added: "There are ongoing meetings, so it is premature to comment at this stage."
Fota was set up three years ago by all the teams to present a united front in negotiations with the commercial rights holders and governing body the FIA.
However, the top teams have been arguing all year over the shape of a renewed Resource Restriction Agreement (RRA), which sets out limits on the amount of staff, external spend and aerodynamic research teams can employ and covers work on the design of the car.
Those talks had reached an impasse, with Ferrari and Mercedes openly accusing Red Bull of flouting the RRA. Red Bull have always insisted they operate within it.
The row led to Red Bull and Ferrari announcing on Friday that they were giving the requisite two months' notice to quit Fota, although they have both pledged to continue working with the other teams to keep costs under control.
A meeting has been planned for Monday between the big four teams - Red Bull, McLaren, Ferrari and Mercedes - on this subject.
It had been expected in the wake of Red Bull and Ferrari's decision to quit Fota that the meeting would be cancelled, but so far that has not been the case.
Toro Rosso have refused to comment on their position, but as they are owned by Red Bull and use Ferrari engines it is considered impossible for them to continue in the organisation. BBC Sport understands they would almost certainly be refused entry to any meeting they attempted to attend.
The remaining seven teams - McLaren, Mercedes, Renault (who will become Lotus next season), Force India, Williams, Lotus/Caterham and Virgin - all attended a Fota meeting on Tuesday.
However, it should be pointed out that the meeting was attended by the respective team principals, not the chairmen or owners of the teams, who will ultimately make the decision whether to continue with Fota.
Mercedes have already said they want to keep the organisation alive.
On Monday - before Sauber's withdrawal became public but after they had announced it to the other teams - Mercedes motorsport vice-president Norbert Haug said: "It is absolutely vital that Fota is existing.
"The aims that we are having, the targets, are very important and I think it is up to the so-called top teams to really balance it out."
McLaren, Williams, Lotus (who will be renamed Caterham in 2012) and Virgin all refused to comment.
McLaren are understood to be keen to continue with Fota - their team principal Martin Whitmarsh is the president of the organisation and has worked hard to keep the teams together.
Insiders believe that although Fota has been weakened by the departures, there can still be some strength in numbers, especially in discussions on important issues such as commercial rights and technical and sporting regulations.
Mercedes GP chief executive officer Nick Fry said: "It's obviously quite a difficult time at the moment and clearly we, Mercedes AMG, are very supportive of cost control in Formula 1.
"It's a difficult thing to achieve when everyone is so competitive but we certainly will work with others to try and fulfil the aim of an RRA.
"I think even though Ferrari have withdrawn at the moment they also are intent on finding a solution to this.
"We've certainly hit a bump in the road but I believe that work will continue in the background to try and resolve this and we will do whatever we can to support that."