Lotus Renault sign Romain Grosjean with Kimi Raikkonen for 2012
Last updated on .From the section Formula 1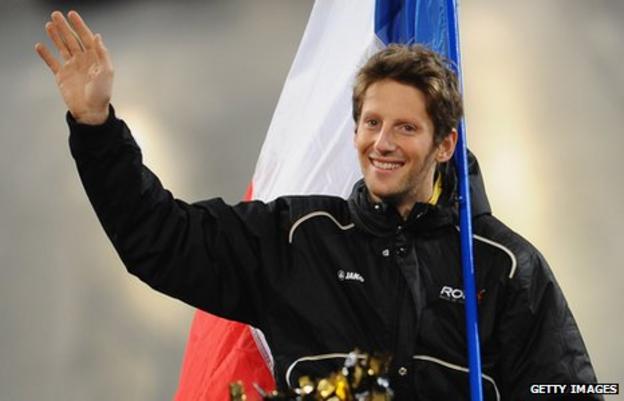 Romain Grosjean will join returning ex-world champion Kimi Raikkonen next year at Lotus, who raced as Renault in 2010.
Grosjean was dropped by Renault after failing to impress alongside Fernando Alonso in 2009 and returned to the GP2 feeder series, which he won in 2011.
"There's a big grin on my face at the prospect of getting behind the wheel of next year's car," the Swiss, 25, said.
Team owner Gerard Lopez said Grosjean's appointment would "help us achieve our aims of getting back to the very top".
Grosjean was born in Geneva but holds dual Swiss and French nationality and his role is linked to a renewal of the team's sponsorship deal with French oil giant Total, which was announced in the same media release.
The move leaves Russian Vitaly Petrov and Brazilian Bruno Senna, Renault's two race drivers at the end of 2011, looking for a place in F1 next year.
Grosjean said he was excited about returning to F1 alongside former McLaren and Ferrari driver Raikkonen.
"To be racing alongside a former world champion - and someone who is hungry and returning to Formula 1 - will be a great experience. I'm sure it will help raise my level of performance too.
"I feel that my successful season in GP2 Series has helped me mature a lot. I am a much more complete driver than I was last time I was competing in this sport.
"Returning to Enstone [Renault's base] as a race driver feels like coming home. I will not disappoint."
Raikkonen, who had talks with Williams about a return to F1 next season before signing for Renault in November, was drafted in as the team's number one driver after Robert Kubica failed to recover in time from serious injuries sustained in a rally accident in February.
Team principal Eric Boullier said: "We have been waiting for Robert to understand his plans. We would like to sit down with him and his manager to see what can be done to get him back in F1.
"If we can help him get in back in F1 we will, but we have signed our drivers for next year and we want to stick with our drivers."
Boullier added if Kubica was fit to make a return at some point during the 2012 season they would make a decision about that at the time.
Renault have talked about trying to help Kubica on the road to recovery, but it remains unclear whether any return to F1 by the 27-year-old would be with Renault, or which of their two race drivers would step down if it was.
Petrov, Senna and the team's reserve driver Grosjean were all in the frame to take the second seat.
Grosjean impressed in this season's GP2 Series, the feeder championship to F1, taking five wins and 10 podiums on his way to a maiden title.
The 25-year-old then got behind the wheel of a Renault in the first practice sessions at the final two races of the season in Abu Dhabi and Brazil, where he impressed Boullier.
"Romain has shown a lot of maturity in the past 12 months both through his GP2 Series victory and his development as third driver with us," said Boullier, who has pushed for Grosjean to be given a second chance following his low-key F1 debut.
"We were impressed when he drove for us in the first practice sessions in Abu Dhabi and Brazil.
"We are confident that drafting him into one of our driver's seats will help us in our rebuilding process.
"I would like to thank Vitaly Petrov and Bruno Senna for their contribution to the team's performance this year and I wish them all the best for the future."
That leaves them in competition with Brazilian veteran Rubens Barrichello and German Adrian Sutil for one seat at Williams, with Sutil the favourite.
Neither Force India, for whom Sutil drove in 2011, nor Toro Rosso have named their drivers for 2012 yet.
But Force India are expected to confirm within the next week or so that Scot Paul di Resta, who impressed in his debut season this year, will be joined by German Nico Hulkenberg, who was their reserve driver in 2011.
Toro Rosso will pick their two race drivers from four Red Bull proteges - their 2011 race drivers Jaime Alguersuari and Sebastian Buemi, Australian Daniel Ricciardo and Frenchman Jean-Eric Vergne.
Ricciardo, who raced for HRT in the second half of 2011, could also be drafted in at Lotus, who will be renamed Caterham for 2012, in place of veteran Italian Jarno Trulli.
HRT also have one seat available alongside veteran Spaniard Pedro de la Rosa.