Lotus Renault aim to win Formula 1 title in three years
Last updated on .From the section Formula 1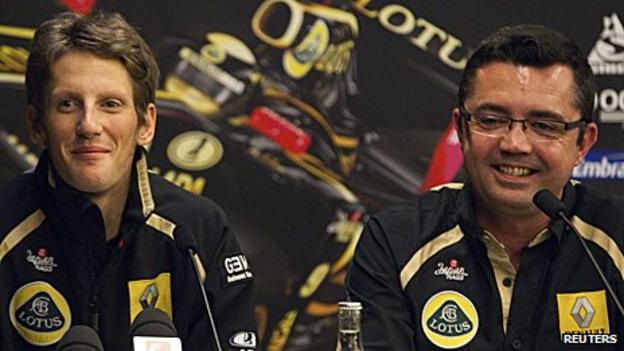 Lotus have set an ambitious target of winning the world title by 2014 after signing ex-champion Kimi Raikkonen alongside Romain Grosjean for 2012.
The team, who are changing their name from Renault for next season, won titles with Fernando Alonso in 2005-06 but were fifth overall in 2011.
Team principal Eric Boullier said: "The plan is to be world champions in two or three years' time."
That ambition was behind the decision to change both drivers, he added.
The Frenchman, who was speaking at a news conference in Paris, admitted that doing so was "not fashionable" but that it "corresponds to owner Genii's desire to become a top team again".
Renault started the season with a line-up of Russian Vitaly Petrov, who made his debut in 2010, and German veteran Nick Heidfeld, who was a late replacement for lead driver Robert Kubica.
The Pole was badly injured in a rally accident in February and is still not fit enough to drive an F1 car.
The team started the season strongly, with a podium for each driver in the first two races, but Renault then slipped down the field.
They finished the season with 73 points, 92 behind fourth-placed Mercedes, who in turn were 213 behind third-placed Ferrari.
Heidfeld was replaced by the Brazilian Bruno Senna for the final eight races, but both Senna and Petrov have been dropped for 2012.
Raikkonen, who was dropped by Ferrari in favour of Alonso at the end of 2009, returns after an unsuccessful two years in the world rally championship.
Grosjean was dropped by Renault at the same time, after an unconvincing half-season alongside Alonso.
Boullier, who is also Grosjean's manager, said he had been impressed by the Swiss driver's ability to bounce back to win the GP2 feeder series in 2011, and by his performances in two appearances for Renault in Friday practice at the end of the season.
Grosjean said: "I've had a rather unusual journey with a first stint in F1 which ended in 2009 in a not very glorious fashion but which was necessary for my maturity.
"It all makes me believe that perseverance pays off."
He added that he was not fazed by racing alongside Raikkonen.
"I'm starting to get used to racing alongside a world champion," he said. "I will have to try to match his pace. He has stopped for two years but is a great champion capable of doing great things."
Kubica's future remains uncertain.
Boullier has spent the year saying that Renault would help him return to F1 whenever he was ready, but he admitted that the team's relationship with the 27-year-old was at "point zero".
"I don't know if there will be a future between Lotus Renault and Robert," he said.
Talking to BBC Sport, he added: "We have been waiting for Robert to understand his plans. We would like to sit down with him and his manager to see what can be done to get him back in F1.
"If we can help him get in back in F1 we will, but we have signed our drivers for next year and we want to stick with them."
Asked whether the team would let Kubica use their facilities - including their simulator and F1 cars - to test his fitness, Boullier said: "We need to discuss a more global plan to see what he can do and if he can commit to us long term."