Caterham F1 to set sights higher
By Andrew Benson
BBC Sport
Last updated on .From the section Formula 1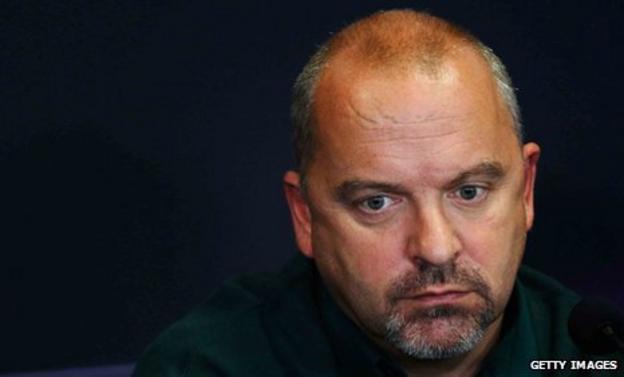 Team Lotus, officially renamed as Caterham F1 on Wednesday, have set their sights on starting to beat the more experienced teams in 2012.
Chief technical officer Mike Gascoyne said: "It's time to take the fight to the more established teams and start beating them."
The outfit have finished 10th of 12 teams in the two seasons since they entered F1.
Team Lotus beat HRT and Virgin, but they have been unable to bridge the gap to the back of the midfield apart from on a handful of occasions.
But two consecutive seasons of finishing 10th ensures them a greater share of F1's prize money and the team, in their new guise, are confident that can be the springboard to beating the lower midfield runners, such as Williams, Toro Rosso and Sauber.
Team owner Tony Fernandes said: "The race team must improve and be a true showcase for our group of businesses. Yes, being in F1 implies that you are already ahead of the pack. However, ultimately we want to be leading that pack. It's not going to happen overnight, but if we set realistic targets, then it's something we will achieve."
They will also be competing in 2012 free of the shadow of the dispute over the Lotus name.
Fernandes, a Malaysian businessman and owner of the Air Asia airline, initially entered F1 under the title Lotus F1 team under licence from the Group Lotus car company.
But a change of strategy at Group Lotus saw their new chief executive Dany Bahar decide that the company would be better served in F1 by links with a more established team. He decided to sponsor the Renault team and sought to end the licence with Fernandes.
Fernandes then bought the rights to the historic Team Lotus name to protect his investment, and he and Group Lotus ended up in a legal battle.
That ended earlier this year with the High Court agreeing that Fernandes had the rights to Team Lotus and to race in F1 under that name, while Group Lotus could also use the Lotus name in the sport.
Meanwhile, Fernandes bought the English Caterham sportscar company and the two parties subsequently came to a settlement, whereby Group Lotus bought the Team Lotus name and rights from Fernandes, who would change the name of his F1 team to Caterham.
As part of the deal, which has been approved by the other F1 teams, Renault F1 will change their name to Lotus F1 team.
Caterham have retained Finn Heikki Kovalainen and Italian Jarno Trulli as their drivers.