Bernie Ecclestone says Formula 1 will not be big in the United States
Last updated on .From the section Formula 1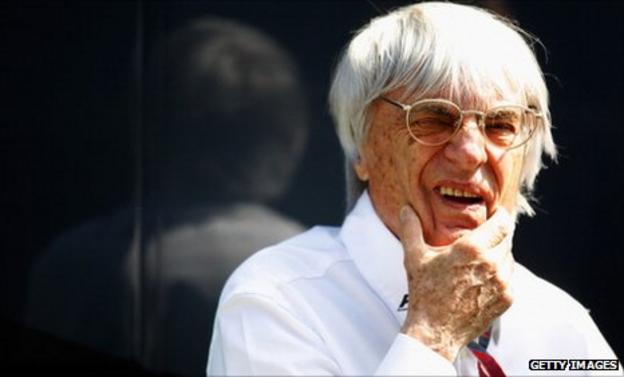 Formula 1 boss Bernie Ecclestone has admitted that the sport "will not be big in America".
Formula 1 is due to return to the United States with a race in Texas in 2012, with a second race planned in New Jersey from 2013.
Ecclestone, 81, told Al Jazeera English: "The US has been slow to get F1 because they want to see a profit before they start."
He also revealed a race could be held in South Africa from 2013.
And Ecclestone expects to return to Bahrain next year after the cancellation of the 2011 grand prix.
In an interview with veteran broadcaster Sir David Frost, he said: "Formula 1 will not be big in America. But Formula 1 will be in Russia for 2014, and in South Africa by 2013 even."
A grand prix has not been held in South Africa since 1993, while a deal was struck to race in Russia from 2014 last year.
Formula 1 bosses announced an unchanged calendar for 2012, despite continuing doubts over the races in the US and Bahrain.
The revived US race, due to take place on a new track in Austin, Texas, is set to go ahead despite money concerns.
It was announced in October that a second American grand prix would be held in New Jersey for 10 years from 2013.
Meanwhile, there are concerns about racing in Bahrain next April because of continuing civil unrest.
Bahrain's Grand Prix was cancelled in 2011 after months of controversy following civil unrest in February in which more than 40 people were killed.
But Ecclestone said: "We're happy to go there if we are invited, we'll be delighted."