Formula 1: BBC announces its 2012 commentary team
Last updated on .From the section Formula 1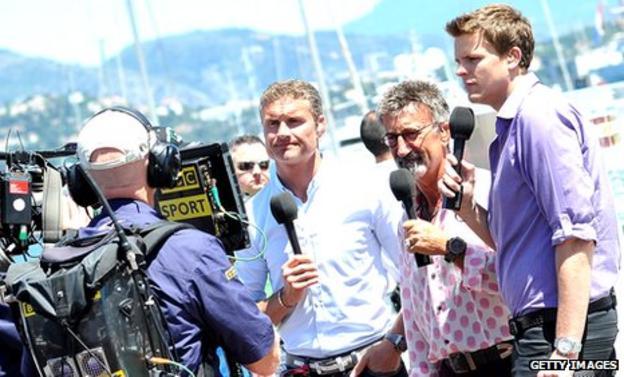 The BBC has revealed its Formula 1 presenting team for the 2012 season.
F1 car designer Gary Anderson will be technical analyst, while Lee McKenzie remains as pit-lane reporter.
James Allen becomes Radio 5 live commentator, with Jennie Gow in the pit-lane. Ex-Toro Rosso driver Jaime Alguersuari will provide the analysis.
Edwards has a wealth of motorsport commentary experience, having commentated on F1 for Eurosport and the former F1 Digital channel.
He has also commentated for Sky on A1 Grand Prix, for Eurosport and ESPN on the US-based Champ Car series (now IndyCars) and most recently on the British Touring Car Championship and Superleague on ITV.
Anderson had a 13-year career as an F1 technical director, starting with Jordan in 1991 before moving to the Stewart and Jaguar teams, plus a second spell with Jordan.
He started his career in the 1970s, graduating to become Brabham's chief mechanic, before moving on to McLaren and then designing cars in other areas of motorsport before joining Jordan for their debut F1 season in 1991.
Since leaving motorsport engineering, he has gained experience in broadcasting, working for Ireland's RTE television station, as well as F1 journalism.
Allen was ITV's lead commentator following Murray Walker's retirement at the end of 2001 until the BBC returned as the UK's F1 broadcaster in 2009.
Gow has previously worked in F1 for BBC Radio 5 live, as well as in MotoGP for BBC Sport.
Alguersuari drove for the Toro Rosso team last season, and is the only driver now working as an expert summariser who has competed using the DRS system.
Ben Gallop, the BBC's head of F1, said: "We're delighted to welcome Ben, James, Gary and Jennie to the BBC presentation team. They bring with them a wealth of experience and knowledge as well as huge passion for the sport that will help bring the season to life for our audiences on TV, radio and online."
Edwards said: "I'm thrilled to be joining the BBC F1 team. It's a dream come true to be broadcasting from grands prix all over the world with such a prestigious broadcaster and such a talented group of people.
"My first stint as commentator coincided with David Coulthard's first season in F1 as a driver, so I am relishing the opportunity to work with him now in conveying the drama, excitement and passion that is wrapped up in each and every event.
"The prospects for the 2012 season are tremendous, with Lewis Hamilton out for revenge, Ferrari determined to give Fernando Alonso a car worthy of him and Sebastian Vettel attempting to become only the third driver in history to score a hat-trick of titles."
Ten races will be shown live on BBC One in 2012, including the British, Monaco and Brazilian grands prix.
The 10 races shown live on BBC One and BBC HD will be: China (15 April), Spain (13 May), Monaco (27 May), Europe (24 June), Britain (8 July), Belgium (2 September), Singapore (23 September), Korea (14 October), Abu Dhabi (4 November) and Brazil (25 November).
There will be extended highlights programmes on BBC One of the other 10, of either 90-minute or two-hour duration depending on the location of the race.
Races in the Far Eastern time zone will have highlights broadcast on BBC One at 2pm, with those in the European time zone getting 90 minutes at 5.30pm.
The BBC's coverage of all the live races will be as extensive as ever, with all the action on and off the track across TV, radio, online, red button and mobile.
There will be full live coverage of both qualifying and race on BBC One, BBC One HD and the BBC Sport website, plus a one-hour evening highlights programme on BBC Three and BBC HD.
For these live BBC races, all three practice sessions will be shown live on the red button and the website.
The F1 Forum will continue on the red button for about an hour of comment and analysis after the programme. It will also be available on the red button and the website after the non-live races.
The presentation team will be at all the races, including those that are not being broadcast live on BBC television.
All 20 grands prix will be broadcast live on BBC Radio 5 live or 5 live sports extra.
Allen said: "I'm really happy. Radio 5 live is the default setting on my radio at home and in the car. It's a great institution and I'm proud to be part of it.
"Anyone who has followed my career knows I love a challenge. This is a time of change in our industry and I see great opportunity here, thanks to the unique place Radio 5 live has in this sport."
The full narrative of every grand prix weekend, including live text and 5 live audio commentary of all on-track sessions as well as news, interviews, pictures and highlights, will also be available on the BBC Sport website.
The BBC Sport website and red button will broadcast live coverage of every second of on-track action for all the races that are live on BBC One and will have highlights of the others.