Red Bull boss Christian Horner defends Toro Rosso sackings
By Andrew Benson
Chief F1 writer
Last updated on .From the section Formula 1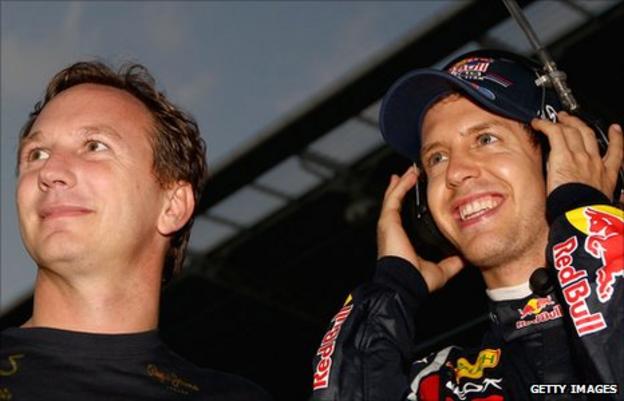 Red Bull have defended their young driver programme following criticism after the sacking of both drivers from feeder team Toro Rosso.
Sebastien Buemi and Jaime Alguersuari have been replaced after three years by Jean-Eric Vergne and Daniel Ricciardo.
"Red Bull has invested a huge amount in youth and should be commended," said Red Bull team boss Christian Horner.
"It worked for Sebastian Vettel and provided a genuine opportunity for the talents of Ricciardo and Vergne."
Horner, speaking exclusively to BBC Sport, said that the decision to drop both Buemi and Alguersuari was made because the time they had spent with Toro Rosso had enabled Red Bull to establish that they were not of the calibre required to race full time with the senior team.
Buemi has been retained by Red Bull as a reserve driver for both teams.
Red Bull are looking for a driver with the ability to race wheel to wheel with the top drivers in F1 - as Vettel has proved by winning the world title for the last two years.
Horner said: "Both Buemi and Alguersuari had the support of Red Bull to enter F1 and had been supported in Buemi's case for three seasons and in Alguersuari's two and a half seasons, and during that time it enables you to form a picture of how the guys are developing.
"Obviously a decision was made to elevate both Jean-Eric Vergne and Daniel Ricciardo, who are two of the most exciting talents on the periphery of Formula 1, into race seats at Toro Rosso.
"As (Red Bull owner) Dietrich Mateschitz always said, Toro Rosso is there for driver development, to produce future race-winning stars who have been invested in through the Red Bull junior programme.
"In Jean-Eric and Daniel we have on the Red Bull books two of the most exciting youngsters who have been coming through the ranks of the junior formulae in the last couple of years.
"Both drivers are well known to Red Bull Racing and are capable of doing a very strong job.
"It was entirely logical for us to retain Buemi in the capacity of a test and reserve driver.
"He will be doing behind-the-scenes work on a simulator, he is well known to the team, he knows the structure, and he remains within the pool of drivers available to Red Bull Racing."
Horner said that he believed Red Bull should be praised rather than criticised for their investment in young drivers.
"Red Bull doesn't get the credit it deserves," said Horner.
"Neither Buemi nor Alguersuari would have progressed through the junior ranks - let's not forget Alguersuari won the British Formula Three championship - without the support.
"Red Bull have brought in numerous drivers to F1 now, some who have remained, some who have moved on to other things.
"We have some youngsters on the programme, including a young Scottish lad, Lewis Williamson, who is being supported in the World Series this year and within GP3 last year.
"He's another driver who wouldn't have the opportunity to progress without the support of the Red Bull junior programme.
"We're in a good position with the Red Bull juniors. When I look around at what other schemes there are, Red Bull has invested a huge amount in youth and should be commended for giving these guys the opportunity that might otherwise have gone missing."