Bruno Senna is the favourite to drive for Williams team
By Andrew Benson
Chief F1 writer
Last updated on .From the section Formula 1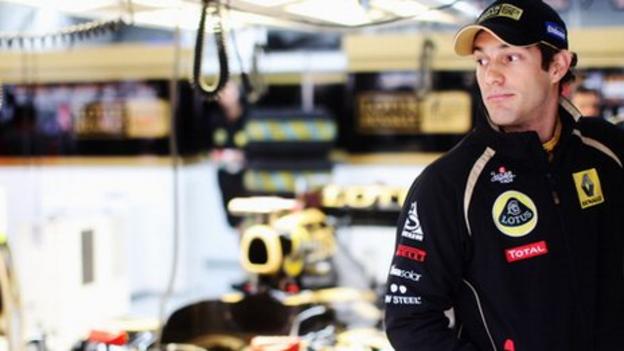 Bruno Senna has emerged as the strong favourite for the vacant seat at Williams this season.
The nephew of the late Formula 1 legend Ayrton Senna will fend off veteran Rubens Barrichello and German Adrian Sutil, insiders have told BBC Sport.
The Brazilian impressed when racing for Renault in the last eight races of 2011 and drove in 2010 for new team HRT.
Venezuelan Pastor Maldonado, who raced for Williams in 2011, has already been confirmed in one of the team's cars.
A sponsorship package from Brazil is believed to have eased Senna's route into the seat, but Williams are also understood to have been impressed by the flashes of genuine promise he has showed in 2011, including an impressive seventh place on the grid for his first grand prix with Renault at the demanding Spa-Francorchamps track in Belgium.
Senna's manager Chris Goodwin refused to comment, while Williams were unavailable.
Barrichello, who will be 40 this year, had been hoping to extend his F1 career into a 20th season but it seems his hopes have been dashed despite proving in the last two seasons with Williams that he still has the ability and commitment required.
The only remaining free seat in F1 for 2012 is the second HRT alongside veteran Spaniard Pedro de la Rosa.
But Barrichello is considered unlikely to want to drive for the back-of-the-grid Spanish team.
Veteran Italian Jarno Trulli's tenure at Caterham - who raced as Lotus last year - is also believed to be insecure, but Russian Vitaly Petrov, who drove for Renault in 2010 and 2011, is tipped to get that seat.
There was support among some sections of the Williams team for Barrichello keeping the drive, on the basis that he is a proven talent and because of his renowned technical expertise.
Williams had the worst season in their history in 2011 and are in the middle of a rebuilding process, with a new technical director, chief aerodynamicist and chief engineer, and some in the team felt they could benefit from continuity of drivers and Barrichello's experience.
However, sources close to Williams say the relationship between the driver and the team's management soured over time as a result of the slide in the team's results.
Sutil, who has raced for Force India in their various guises in F1 since 2006, was the early front-runner for the final Williams seat.
But his chances have diminished since it became clear that he could face charges for an alleged nightclub assault on one of the executives of the Renault team - now Lotus - after last year's Chinese Grand Prix.