Lewis Hamilton is back on track according to McLaren
By Andrew Benson
Chief F1 writer
Last updated on .From the section Formula 1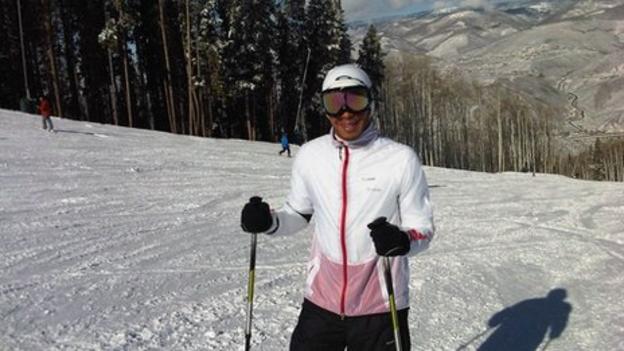 Lewis Hamilton has put a difficult 2011 season behind him and is back on track, his McLaren team say.
Hamilton's three wins last year were interspersed with a series of errors and penalties as he admitted personal problems affected him.
McLaren managing director Jonathan Neale said: "I'm speaking to him most weeks. He's getting himself together.
"He's winter training really hard and he's in the right place doing the things he needs to be doing."
Hamilton is believed to be in the United States training in the Rocky Mountains, but will be back in the UK at the end of the month in time for the launch of the new McLaren on 1 February.
Hamilton said at the end of 2011 that he would spend the winter analysing the difficulties he had had last season and ensuring he was mentally back to full strength for the new season.
Neale said: "What he needs to do is get himself in the car. He's only got something to prove to himself. He's his own biggest critic.
"He puts extremely high demands on himself, we at the team are here to support him. It's a tough business, you've got to get the job done."
One of the motivating factors behind Hamilton's difficult 2011 was his disappointment that McLaren had not produced a car that could challenge Red Bull on a consistent basis.
Neale acknowledged that McLaren needed to up their game in 2012 - not just in terms of performance, but on an operational level as well after strong finishes in several races slipped through their fingers because of errors.
"One of the things we measure is our did-not-score rate," he said. "If we had a good car that was capable of scoring good points in that race and we didn't, we go back and ask ourselves why.
"There have been a number of operational issues we've needed to get fixed and some of the changes we're making in our line-up and some of the processes - and bringing people like (former Williams technical director) Sam Michael on board (as sporting director) - are aimed at tackling some of those issues."
Neale said he expected world champions Red Bull to remain strong in 2012, and that he was wary of a revival from Ferrari, who struggled last year partly because they were unable to maximise the year's must-have technology, exhaust-blown diffusers.
This is when the teams channel the exhausts along the rear floor of the car and blow gases through them even when the driver is off the throttle. The technology significantly increases downforce, but has been banned for 2012.
Ferrari's only win in 2011 was at the British Grand Prix, where the technology was severely restricted for one race.
"Red Bull have been good for the last two years," Neale said.
"They sorted out their reliability last year and it's just speculation at this moment (who will have the quickest car).
"Who knows who will come out with what?
"Ferrari have obviously got a lot to prove this year.
"From the glimpse we got of how their car was at Silverstone without the blown diffuser they were quick, so they have some capability there.
"But the whole car hangs together well for Red Bull and, with an evolutionary set of rules, they would be disappointed if they weren't among the front runners."