HRT insist they will race despite 'critical delays'
By Andrew Benson
Chief F1 writer
Last updated on .From the section Formula 1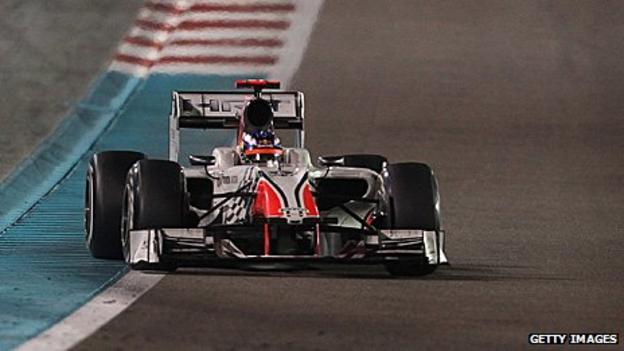 The struggling HRT team have admitted their preparations have suffered a "critical delay" but insist they will be ready for the start of the season.
HRT, who have new owners and a new team principal, revealed that the restructuring had delayed the design and production of their new 2012 car.
But a spokeswoman said: "Rumours that we will take part in the initial grands prix with the 2011 car are not true.
"The target is to be at the second [pre-season] test with the new car."
Pre-season testing begins with a four-day test in Jerez in southern Spain starting on 7 February, when HRT plan to use their 2011 car.
The teams move to Barcelona for the second test on 21 February.
There is a final test, also running for four days, from 4 March, again at Barcelona, before the first race of the season on 18 March in Melbourne, Australia.
Team principal Luis Perez-Sala, who replaced Colin Kolles in December, was not available for interview.
The spokeswoman said: "Luis Perez-Sala is fully focused at the moment on the car and the new structure, and he prefers not to give any statements or interviews to the press for now until everything is in place."
She added that the 2012 car had passed some of its regulation crash tests but has more to complete.
For the first time this season teams have to pass all the crash tests required by the FIA, the sport's governing body, before they run the car on track. Previously, they were only required to do so before it raced.
Rumours in F1 circles have suggested that HRT, who finished 11th out of 12 teams in both seasons since their debut in 2010, will struggle to have their car ready because they do not have enough time.
As recently as November, they were in talks with Caterham Composites - a company owned by Caterham F1 bosses Tony Fernandes and Mike Gascoyne - about designing and building the 2012 HRT.
But these foundered and last month the team announced they would design and build their own car.
The spokeswoman added: "The philosophy of the new owners has always been first work and then talk. And try to be as open and honest as possible.
"There's been, and still is, a lot to work on but, even if we may struggle in the beginning, the structure that is being built now is a lot more solid, reliable and committed.
"Hopefully, we'll be able to prove all that soon and change the team's perception, which is no longer real. It won't be a bed of roses but we'll manage to do it."
The team have one confirmed driver in veteran Spaniard Pedro de la Rosa, and the spokeswoman said negotiations over a second driver are "still ongoing".
Dutch GP2 driver Giedo van der Garde has been heavily linked with the seat in media reports in Spain.