Lewis Hamilton to testify in Adrian Sutil trial
Last updated on .From the section Formula 1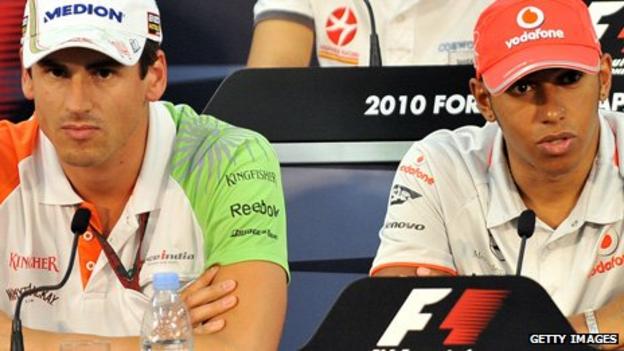 McLaren's Lewis Hamilton is expected to be called to testify in the trial of former Force India driver Adrian Sutil.
The German is charged with causing grievous bodily harm in an incident involving Eric Lux, an executive of the Renault team, now renamed Lotus.
Hamilton, a close friend of Sutil, was in the nightclub at the time.
Media reports have said he will be called to testify on 30 January, but BBC Sport understands that Hamilton may ask to attend on a different date.
Two trial dates have been set - 30 and 31 January.
"The first day Lewis Hamilton is being called as a witness," court spokeswoman Ingrid Kaps told the Hamburger Morgenpost newspaper. "This is a mandatory appearance."
Hamilton is willing to co-operate with the trial but McLaren's 2012 Formula 1 car is being launched at the team's factory on 1 February and it is understood he has commitments to his team that may preclude him testifying on 30 January.
Sutil has issued an apology over the incident, which happened in a Shanghai nightclub last April on the night after the Chinese Grand Prix.
Prosecutors are requesting a year's suspended sentence for Sutil.
Both Lux and Sutil were among guests at a party to celebrate Lewis Hamilton's victory at the Shanghai race.
Sutil's manager has said the driver was looking forward to seeing the truth of the incident come out in court.
Force India have already announced Germany's Nico Hulkenberg as Sutil's replacement in their team for the 2012 season.