Lewis Hamilton unavailable for date of Adrian Sutil trial
By Andrew Benson
Chief F1 writer
Last updated on .From the section Formula 1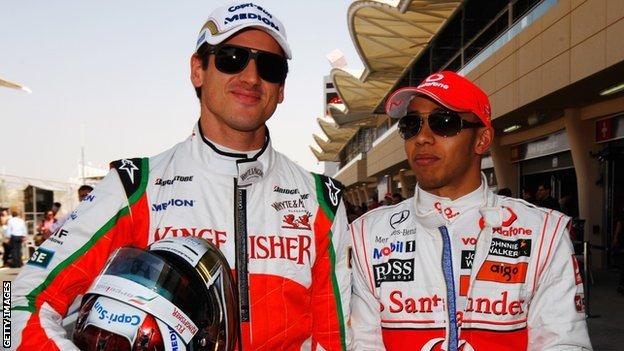 Lewis Hamilton has told the court trying his friend Adrian Sutil that he will not be available on the day they initially wanted him to testify.
Fellow-driver Sutil is charged with causing grievous bodily harm in an incident involving an F1 executive.
Hamilton is prepared to co-operate but has commitments with McLaren on 30 January, when prosecutors wanted him to appear, his lawyer has told the judge.
It is not known whether a new date will be set or Hamilton will be excused.
Hamilton's lawyer contacted the judge in the trial - which will take place in Munich - when reports emerged last week stating that prosecutors wanted Hamilton to testify, BBC Sport has learned.
Two dates have been set for the trial - 30 and 31 January - and a spokeswoman for the court was quoted in the German media saying Hamilton would be called to make a "mandatory appearance" as a witness on the first day.
Hamilton, who turned 27 earlier this month, was in the nightclub in Shanghai on the night Sutil, who last season drove for Force India, is charged with assaulting Eric Lux, an executive of the Renault team, which has since been re-named Lotus.
Hamilton, contrary to reports, has not yet received a summons to the trial but is willing to co-operate and his lawyer has offered the 2008 world champion's assistance.
However, Hamilton is contracted to do work for McLaren on the day in question.
The team's new F1 car is being launched at their factory in Woking, Surrey, on 1 February. Hamilton is currently doing physical training in the United States in preparation for the new season, which starts in Australia on 18 March.
The Sutil trial will now either go ahead as planned, or will be adjourned until a new date so Hamilton can testify.
Sutil has issued an apology for the incident, which happened on the night of last year's Chinese Grand Prix, which Hamilton won.
Prosecutors are requesting a year's suspended sentence for Sutil, whose manager has said the driver is looking forward to seeing the truth of the incident come out in court.
Force India have already announced Germany's Nico Hulkenberg as Sutil's replacement in their team for the 2012 season.
The 29-year-old, whose best result in F1 is a fourth place, does not have a drive for the coming championship, and is expected to take a year off the sport while he tries to find a race seat for 2013.