New Force India design for Paul di Resta and Nico Hulkenberg
By Andrew Benson
Chief F1 writer
Last updated on .From the section Formula 1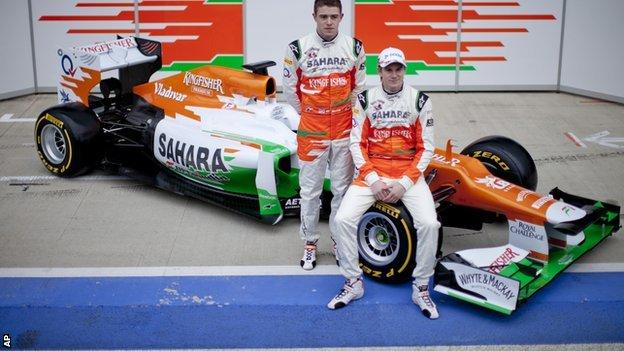 Scot Paul di Resta and German team-mate Nico Hulkenberg have unveiled the new Force India car which carries their hopes in the 2012 Formula 1 season.
It features the dramatic-looking stepped nose that is expected to feature on many of this year's cars.
Di Resta, who impressed greatly during his debut season, said: "There's a bit more pressure on me this year as I'm not a rookie any more.
"With what the guys have achieved with the car, I can't wait to get in it."
Di Resta became the first driver to take a 2012 F1 car on to the track, when he completed a few laps of Silverstone after the launch.
Like the Caterham and Ferrari, the new VJM05 has a pronounced step along the top of the chassis in the area of the front wheels - a way of satisfying new rules demanding lower noses while also getting as much airflow as possible in the critical area under the front of the car.
The siting of two camera mounts on either side of the top of the nose also gives the launch car a distinct 'hammerhead' appearance.
The car was unveiled at Silverstone - across the road from the team's headquarters - and deputy team principal Bob Fernley described Di Resta and Hulkenberg as "one of the most exciting driver line-ups in F1".
Force India hope to build on an impressive 2011 that saw them finish strongly to end sixth in the constructors' championship.
"I don't think [owner] Vijay [Mallya] will accept anything less than fifth," said Fernley.
"It's a good job we didn't finish fifth last year because Vijay would have wanted fourth this year.
"It's going to be tough. It's not going to be an easy ride by any means."
Di Resta added: "This season we're going for a stronger start, to finish where we left off after a good end to last season.
"Last year we met our ambitions of finishing sixth in the constructors', so now we'll just push on from there.
"We need to work hard over the next few weeks in the tests to get the best out of the car going into the new season."
Hulkenberg made his F1 debut in 2010 with Williams and returns to racing in place of Force India's former driver Adrian Sutil after a year as the team's test driver.
Hulkenberg said: "It feels pretty good to be back. When I heard about it I was happy.
"Last year wasn't easy for me but Force India have given me a chance to prove myself.
"I've kept myself sharp and now I'm back. Last year I improved and learned, even though I wasn't racing.
"But I was still heavily involved in the team. I picked up some things, with the only thing missing being the racing.
"Now, ahead of my second year in F1, I want to establish myself.
"The new car is quite exciting and, like Paul, I can't wait to drive it next week [in the first test in Jerez from Tuesday]."