Adrian Sutil not dropped over nightclub incident, say Force India
Last updated on .From the section Formula 1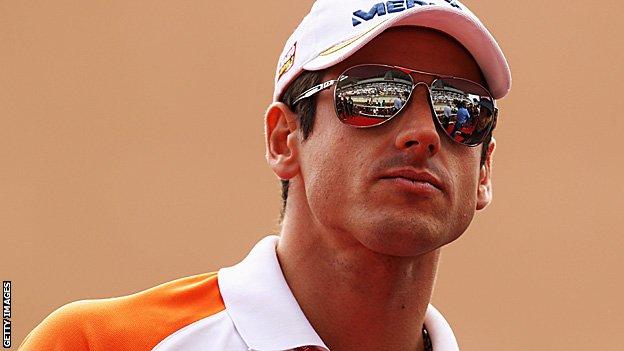 Force India say their decision to drop Adrian Sutil for 2012 had nothing to do with his trial on grievous bodily harm charges following a nightclub incident.
Force India deputy team principal Bob Fernley said that "never even came into our thinking" when choosing drivers.
Sutil, 29, has been replaced for this season by German Nico Hulkenberg.
He had been Force India's test and reserve driver in 2011, after an impressive rookie season with Williams in 2010.
"It was a very difficult decision," Fernley said.
"Adrian did have an exceptional season, he is an extremely talented driver, and as importantly an extremely nice person who fitted in well with the team.
"But we had to look at where we felt our long-term strengths lay. Adrian had been with us for a number of years, and we genuinely believed the future with us was with Paul [di Resta] and Nico.
"We looked at it very carefully. It wasn't something we rushed into, but we had very clear ideas as to where we wanted to build the team for the future.
"It was a close decision, and we felt it was time for Adrian to gain experience outside of Force India.
"We also looked at the whole package, in terms of his raw speed, what he was doing for the team in terms of feedback, knowledge and everything else, and we felt Nico edged it."
Sutil's position in the team came into question immediately after the incident with Lux, which happened in a nightclub on the evening of the Chinese Grand Prix in April last year.
Fernley added: "We were under enormous pressure after China last year to do something about it.
"But [owner] Vijay [Mallya] and I were very clear that Adrian was innocent until proven guilty, and that we were there to support him, and not to undermine him in any way."
Sutil has not got a drive in F1 this season and Fernley admitted that the conviction could damage his career.
"I'm disappointed for Adrian because I don't think he deserves it, he doesn't have a bad thought or bone in his body. It wasn't typical of him at all," he added.
"What I am not sure of, and we've not been able to take it in yet, is what the impact will be on his racing career.
"I don't think it will affect him totally, but sponsors and everybody else might have some different views.
"From our point of view it wouldn't have affected us. Vijay and [co-owners] Sahara are strong enough to be able to say what we want is talent, he made a mistake, he's been judged, and we'll go on.
"However, I don't know how other teams will look at it, and I also don't know the legal implications, such as 'can he go into China?'
"They are things we would have to understand if he was with us."