Lotus reveal the car Kimi Raikkonen will drive on F1 return
By Andrew Benson
Chief F1 writer
Last updated on .From the section Formula 1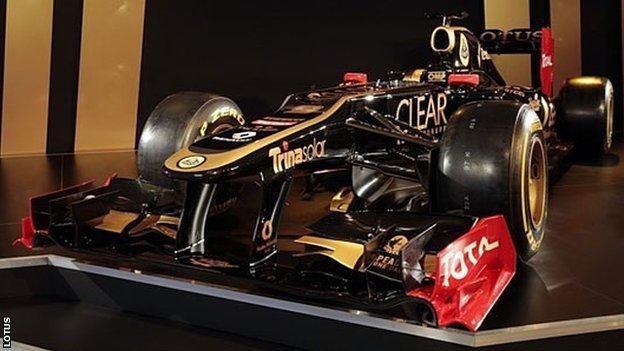 Lotus have unveiled the car Kimi Raikkonen will drive on his return to Formula 1 this season.
The car features one of the most elegant-looking solutions yet to new rules that require lower noses and have led to a number of ugly-looking cars.
And Raikkonen, who returns after two years in rallying, is confident the car will be competitive.
"They are very capable people. They have a good feeling so hopefully we will get good results," he said.
The car was launched online with a video on YouTube after the team's website failed to work.
The team, who have raced as Renault since 2002 and won back-to-back world titles with Fernando Alonso in 2005 and 2006, have changed their name to Lotus this season.
But the car retains its black-and-gold colour scheme from last year.
The new E20 - so named because it is the 20th car to be produced at the team's factory in Enstone, Oxfordshire - features the same 'eye-lets' on the top of the nose in the region of the front suspension.
But they are integrated into the chassis with attractive curves as opposed to the step that was seen on the new Ferrari on Friday.
The car also features a Red Bull-style oval-shaped air exit at the back of the engine cover.
Team chairman Gerard Lopez said the aim was to finish fourth in the constructors' championship, one place higher than last season.
Those hopes will depend in part on how Raikkonen re-adapts to F1, and the Finn said he had no worries about making the adjustment - in contrast to the way Michael Schumacher struggled when he returned after a three-year absence in 2010.
"It will be something slightly different than I'm used to," the 32-year-old said. "[It's a] different team and regulations.
"But some people have more difficulty getting used to new stuff than others, and it depends on the car as well.
"If you have a good car it makes it easier.
"I was pretty happy after the first test [last month in a two-year-old car]. It felt pretty normal already so I think it will be OK.
"But before the first race it is very difficult to say. We wait and see but I am happy so far how things have gone."
His team-mate will be Franco-Swiss Romain Grosjean, whose only previous experience of F1 was half a season with the same team at the end of 2009, and two Friday practice sessions last year.
"I think I will be able to get a lot from [Raikkonen]," Grosjean said.
"We need to work together to bring the team as far forward as possible, and hopefully we can make something strong.
"We are all expecting a lot from this year and after the first four days of testing we will have a good idea of where we will be during the season."