Red Bull launch new RB8 car for 2012
Last updated on .From the section Formula 1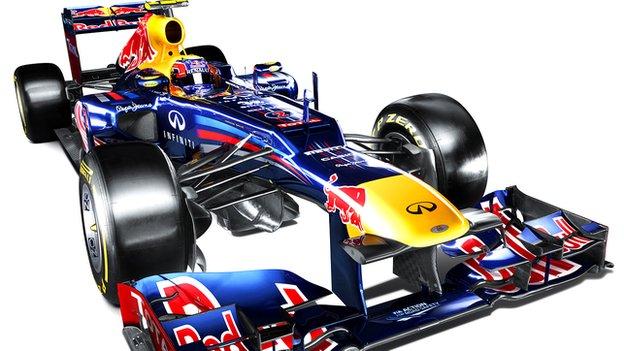 Red Bull have unveiled their new car for the forthcoming season, to be driven by world champion Sebastian Vettel and Mark Webber.
Red Bull admitted that some of the 2012 design regulations mean the latest model of car could be described as "slightly ugly looking".
Rivals Sauber and Toro Rosso have also revealed their cars ahead of the season opener in Melbourne on 18 March.
Red Bull designer Adrian Newey, speaking at the car launch in Milton Keynes, described the latest innovations and modifications.
"We've kept more or less the same chassis shape, but had to drop the nose just in front of the front bulkhead which, in common with many other teams, has led us to a slightly ugly looking nose.
"We've tried to style it as best we can, but it's not a feature you would choose to put in were it not for the regulation."
Red Bull came into last season as reigning drivers' and constructors' champions and have now added the extra dimension of improved reliability.
They dominated 2011 and topped the constructors' championship with 650 points, 153 points clear of nearest rivals McLaren.
German champion driver Sebastian Vettel was upbeat about the developments.
"The first time I jumped into the car for the seat fit - checking the position, checking your pedals, see if everything works - I think it was the same for Mark and myself, we felt extremely comfortable.
"Everything went well and we got our comfortable position, fairly quickly. The RB8 was pretty straightforward, so we hope it continues that way."
The 24-year-old, who has won two successive championships, says his chances of becoming the youngest man to win three successive titles will be difficult in the coming season.
"It would be wrong to go into this season and expect 2011 to happen again, as in getting into the lead early and having a very big gap to other competitors. I think it will be very, very tight this year."
At their car launch at Jerez in southern Spain, Sauber's trio of drivers, Kamui Kobayashi, Sergio Perez and Esteban Gutierrez revealed they will drive the C31.
The Swiss-based team are still chasing a major sponsor for the forthcoming season, with major parts of the car exterior still blank.
They will also have to start in March without technical director James Key, who resigned on Friday.
Sauber chief executive Monisha Kaltenborn said of Key's departure: "He joined us during a handover period from a factory team to a private team.
"His contribution was very valuable, but we now have a structure, long term, that is the right one going forward."
Torro Rosso, with new driver line-up Daniel Ricciardo and Jean-Eric Vergne, have also revealed their latest car, complete with stepped nose.
The STR7 is the third car designed, fabricated and assembled completely by the team since they made the break away from being Red Bull's 'sister' marque.
"In the last three years we've invested a lot of money to build up a good infrastructure," said team principal Franz Tost.
"I expect we will have a really good season. We have a new car, two new highly-skilled drivers, and I'm convinced both of them will do a very good job.
"Last year we finished eighth in the constructors' championship, so the goal for this year is to improve, to finish seventh, or if possible, in sixth position."