Kimi Raikkonen sets fastest pre-season testing time on F1 return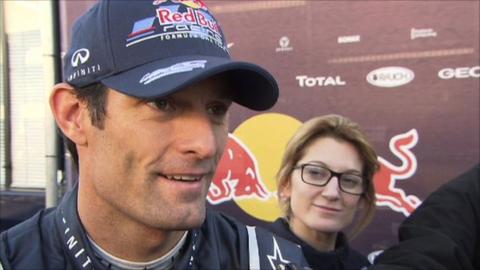 Kimi Raikkonen set the fastest time on the first day of pre-season testing, his first day of running with other drivers since his return to Formula 1.
The Finn, who is driving for Lotus this season, headed the new Force India car driven by Paul di Resta as the teams tested their vehicles in Jerez, Spain.
All the teams are running 2012 cars apart from Mercedes and HRT. Marussia, formerly Virgin, are not taking part.
Red Bull, McLaren and Ferrari all had low-key first days.
"It was a positive day," said Raikkonen. "The lap times don't matter today. I'm happy with the balance of the car, which feels good, and the fact that we didn't have any major issues.
"Also, I did more than a race distance today and did not have any physical problems at all, which is good."
After a slow start following the late arrival of some parts, Red Bull's Mark Webber began to set ominously quick times.
The Australian, whose team have won the drivers' and constructors' titles for the last two years, eventually finished fourth fastest, 0.826secs off Raikkonen's pace.
Webber said: "It's very early days but so far, so good. We had some late parts because of the fog at the airport but we made a reasonable recovery.
"We still [managed] 55 laps and the car ran very well this afternoon. We're satisfied so far. I'm very optimistic I can have a good season."
McLaren's Jenson Button was eighth and Ferrari's Felipe Massa ninth.
Button said: "It's a good starting point.
"What we wheeled out this morning was a great base. I don't know where it's going to end up by the time we get to the first race, but the important thing is the balance feels all right.
"There are no niggly areas with the car, which is nice. Quite different to last year.
"I'm looking forward to working with it, and I'm happy."
Red Bull and McLaren both got their pre-season test programmes off to a slow start.
Red Bull were delayed when their new car's rear wing was late arriving in Jerez because the plane it was on was diverted to Seville due to fog.
McLaren said the reason for Button doing only a handful of laps in the morning session was "routine systems checks".
Raikkonen was the pace-setter from early in the day, first setting a lap of 1:20.5 before lowering his mark by nearly a second.
His fastest time is quicker than the fastest lap set by any car in testing at Jerez before the start of last season.
However, the headline lap times should be treated with caution - it is notoriously difficult to judge real form in testing because it is impossible to know the configuration with which the cars are running.
A great deal of attention has been focused on the design features of the various cars - not least because of new rules that have led most to feature a distinct step on the top of the nose in the region of the front wheels.
A hole in the top of the chassis in this area on the new car from world champions Red Bull has created the most intrigue.
But the team's chief design officer Adrian Newey had a mundane explanation for the feature, saying it was for "driving cooling", and "as much for styling as anything".
The ramp or step has emerged on most new cars because of new rules that mandate a lower nose tip, while the maximum height of the front bulkhead of the chassis has remained at the same, higher level it was last year.
The cars all ran extremely reliably - proceedings were stopped twice, once to recover the broken-down Toro Rosso of Daniel Ricciardo and once for Kamui Kobayashi's Sauber.
Both that team and McLaren were struggling with their exhausts overheating rear bodywork - a typical problem that teams encounter when running a new car for the first time.
FASTEST TIMES, DAY ONE TESTING, Jerez
Kimi Raikkonen (Fin) Lotus-Renault - 1:19.670
Paul di Resta (GB) Force India-Mercedes - 1:19.772
Nico Rosberg (Ger) Mercedes - 1:20.219*
Mark Webber (Aus) Red Bull-Renault - 1:20.496
Daniel Ricciardo (Aus) Toro Rosso-Ferrari - 1:20.496
Michael Schumacher (Ger) Mercedes - 1:20.794*
Kamui Kobayashi (Jpn) Sauber-Ferrari - 1:21.353
Jenson Button (GB) McLaren-Mercedes - 1:21.530
Felipe Massa (Brz) Ferrari - 1:22.815
Heikki Kovalainen (Fin) Caterham-Renault - 1:23.178
Pastor Maldonado (Ven) Williams-Renault - 1:23.371
Pedro de la Rosa (Spa) HRT-Cosworth - 1:23.676*