Adrian Sutil to appeal against conviction for nightclub incident
Last updated on .From the section Formula 1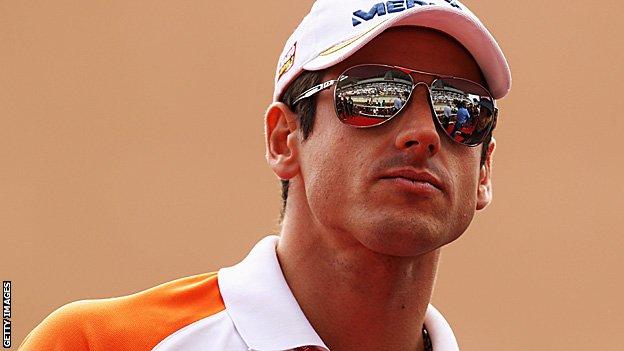 Former Formula 1 driver Adrian Sutil is to lodge an appeal against his conviction for grievous bodily harm.
Sutil's manager Manfred Zimmermann told a German news agency that they felt the judgement was "not appropriate".
The Munich public prosecutor will also appeal, seeking a tougher sentence.
McLaren's Lewis Hamilton is expected to be called to testify at the appeal.
The Englishman was asked to take the witness stand at the last trial on 30-31 January, but declined saying it was too late notice and that he had commitments to the team on those days.
After the verdict Sutil called Hamilton, who was with the former Force India driver on the night in question, a "coward" for not testifying.
The two have been friends for years, but BBC Sport understands their relationship has been strained for some time over the incident.
It is understood Hamilton's position on testifying has not changed - he wants to co-operate and will do so if he is not otherwise committed on the date of the trial.
Lux suffered cuts during the incident in a Shanghai nightclub last April where both he and Sutil were among guests at a party to celebrate Hamilton's victory at the Chinese Grand Prix.
Zimmermann said he felt "many things went against us" at the trial.
Meanwhile, the prosecutor Nicole Selzman believes the sentence was too lenient and wants the probation period to be extended by three months.
Sutil is without a drive in F1 this year after being replaced at Force India by fellow German Nico Hulkenberg.
The team have said that their decision had nothing to do with the court case.