Fernando Alonso quickest on final day of Jerez testing

By Andrew Benson
Chief F1 writer
Last updated on .From the section Formula 1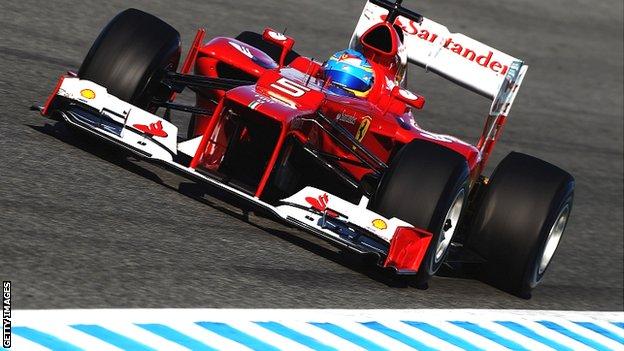 Ferrari's Fernando Alonso set the fastest time on the final day of the first Formula 1 pre-season test.
Toro Rosso's novice Jean-Eric Vergne was second, just ahead of Red Bull's Sebastian Vettel, who lost the entire morning to an electrical fault.
McLaren's Lewis Hamilton was fourth fastest, 0.034secs behind Vettel.
Alonso was the pacesetter from early on, first posting a lap time of 1:19.289 and then 1:18.877. He remained clear of the field all day.
"We learned a lot about the difference of the car [compared to last year's]," he said. "It's been a learning test for us, a lot of constant speeds for us to do the aero and mechanical tests.
"Overall, it has been a positive four days for us and understanding the car. But obviously, with a completely new concept and a completely new design, there is a lot of room for improvement for us and that's what we need to focus on in the next couple of tests."
He added that the team had discovered the car did not behave as they expected.
"We have worked around it and found the performance there," he said, "and found the happiness and level of confidence of driving this car now in day three or day four. So day one in Barcelona will be a much better starting point."
His best times were set on short runs when conditions were at their best for fast laps.
The 30-year-old spent the rest of the day doing aerodynamic data-gathering, a task which has occupied much of Ferrari's testing as they struggle to understand their new car.
Vettel's average lap time over the day was 1:21.372, while Hamilton's was 1:21.463. Alonso, who did little mileage apart from his quick runs in the morning, was 1:20.642.
Vettel said he was not concerned about losing so much time.
"I'm happy with the progress we've made, I think we managed to get a lot done," he said. "Of course, this morning was a bit of a setback but these things happen. It is simply part of testing, this is the reason why we are here."
Alonso's best time was the second fastest of the week for a 2012 car - 0.429secs slower than the quickest, set by Lotus driver Romain Grosjean.
The Franco-Swiss and his car continued to impress on Friday, with the fifth fastest time. His team-mate Kimi Raikkonen, returning to F1 after two years in rallying, also impressed with the fastest time on the first day.
Lotus trackside operations director Alan Permane said the team had had an "exceptional" test.
"We did 100 laps a day - more than anyone else with a 2012 car," he said. "To achieve that is really good.
"More than the pace - because it's difficult to work out what the others are doing because you don't know what fuel loads they're on - the drivers are happy with the car.
"There's a big difference compared to last year in terms of both balance and degradation and it's been hanging on to the tyres well.
"The drivers find it easy to drive and it responds well to set-up changes."
Sauber's Kamui Kobayashi and Force India's Nico Hulkenberg were next, with the Williams of Bruno Senna and the Caterham of Jarno Trulli completing the times.
Senna's best time was during a 70-lap race-distance simulation, which he completed, auguring well for Williams's hopes of a recovery in form as they seek to bounce from the worst season in their history last year.
The fastest time of the week was set by Nico Rosberg in the 2011 Mercedes, whose new car will run at the next test in Barcelona for four days from 21 February.
FASTEST TIMES, DAY FOUR TESTING, JEREZ
1 Fernando Alonso (Spa) Ferrari 1:18.877
2 Jean-Eric Vergne (Fra) Toro Rosso-Ferrari 1:19.597
3 Sebastian Vettel (Ger) Red Bull-Renault 1:19.606
4 Lewis Hamilton (GB) McLaren-Mercedes 1:19.640
5 Romain Grosjean (Swi) Lotus 1:19.729
6 Kamui Kobayashi (Jpn) Sauber-Ferrari 1:19.834
7 Nico Hulkenberg (Ger) Force India-Mercedes 1:19.977
8 Bruno Senna (Brz) Williams-Renault 1:20.132
9 Jarno Trulli (Ita) Caterham-Renault 1:22.198