Ecclestone backs Bahrain GP to go ahead despite violent clashes
Last updated on .From the section Formula 1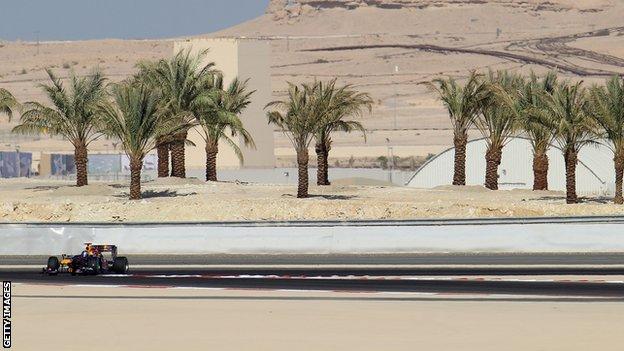 F1 boss Bernie Ecclestone believes the Bahrain Grand Prix should go ahead on 22 April as planned despite a return to violence in the Gulf state.
"I don't think it's anything serious at all. It doesn't change our position in any shape or form," Ecclestone told the Guardian.
"I expected there was going to be a big uprising, with the anniversary."
He added: "If the people in Bahrain [the government] say, 'Look Bernie, it wouldn't be good for you to come over here,' then I would think again. That is what they said last year."
Protesters were out in force on Tuesday in the capital Manama, with security forces firing tear gas and stun grenades at those who had gathered ahead of pro-democracy demonstrations.
Maryam al-Khawaja, head of the foreign relations office, believes this shows nothing has changed in the state:
"The government promised changes last year, but no changes have taken place because there is no incentive to make them. And tortures are still taking place.
He added: "I have heard reports of protesters being thrown from rooftops and others having legs broken. That it is why Formula One should make a stand and call this race off.
A group of MPs are also backing the Grand Prix to go ahead for fear that cancelling it again it would act against any "possible reform of the country".
In a letter to the Times, the UK-Bahrain All-Party Parliamentary Group said: "Those who want Bahrain to continue on the path of genuine reform will do the cause no service by cancelling the Grand Prix this year.
"Bahrain invited independent human rights lawyers, the Bahrain Independent Commission of Inquiry (BICI), to investigate and has started to implement its recommendations."
They added: "Indeed, surely the presence of thousands of Western visitors and journalists in the run-up to and during the event will act as an additional incentive to the authorities in Bahrain to show the international community its sincerity in the cause of reform and that their support for Bahrain is well placed."
On 9 February, seven Lords, along with Green Party MP Caroline Lucas, wrote their own letter to the Times expressing "concern [about] the decision to go ahead with the race".
It added: "We do not believe the time is right to return to Bahrain."
The letter came a month after the Bahrain Centre for Human Rights, an opposition group, called for the F1 teams to boycott the race.
The grand prix, which was cancelled in 2011, is the fourth race on this year's calendar.
Race organisers are due to stage a launch event for the Grand Prix at the Bahrain International Circuit in Sakhir from 18-19 February.