Vitaly Petrov replaces Jarno Trulli at Caterham for 2012
By Andrew Benson
Chief F1 writer
Last updated on .From the section Formula 1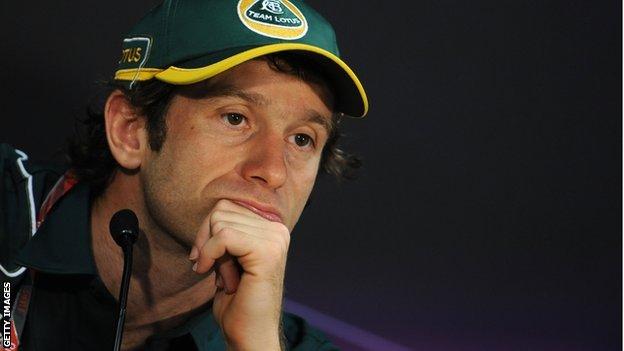 Russian Vitaly Petrov has replaced Italian veteran Jarno Trulli at Caterham for 2012.
Trulli, 37, was under contract to the team but has been dropped after a tough 2011 season and the arrival of Petrov with a substantial sponsorship package.
The move is likely to end the career of a man who has been in F1 since 1997 and won the 2004 Monaco Grand Prix.
Petrov, 27, joins Caterham after two years at Renault, now re-named Lotus, and will partner Heikki Kovalainen.
Team principal Tony Fernandes said the decision to ditch Trulli had "not been an easy one", adding: "It was one we made to ensure we give fresh impetus across the whole team and with a realistic eye on the global economic market.
"As the first Russian to race in F1 [Petrov] carries the hopes of a huge nation with ease and his talents, experience with one of our current competitors, and insights on and off track will play a huge role in our development as we fight to join the established teams ahead."
Petrov said: "This is a very exciting day for me.
"I have been training hard all winter and am ready to get back into the cockpit and go to work.
"From what I have seen already, our new car is another good step forward from 2011 and now I cannot wait to see how it feels when we get to Barcelona."
Trulli joined Caterham - who have raced as Lotus until this year - for their debut season in 2010 but the relationship between the team and driver soured through 2011.
The Italian, who is renowned as a remarkably sensitive driver who needs the car to be to his liking to perform at his best, struggled with the car's power-steering system.
He was comprehensively out-performed by Kovalainen, and although his form improved when the team were able to fit a modified system with improved feel, he was out-qualified by Kovalainen in 16 of the 18 races they did together last season.
This was especially disappointing for the team as Trulli has been recognised throughout his career as one of the fastest drivers in the world over a single lap.
The Finn was also generally the stronger race performer, although Trulli did finish ahead in the championship on the basis of having one more 13th place finish.
Caterham's decision is based on two major factors.
One was that the budget Petrov brings - worth several million pounds - is the equivalent of having a new major sponsor, a significant consideration in the current difficult economic climate, especially given that Trulli needed paying a salary.
The other was the usual size of the margin between Kovalainen and Trulli - often nearly a second in qualifying.
Although Petrov is considered only a journeyman, the team believe he should still be able to produce performances at least as good as if not better than Trulli was managing in 2011.
Fernandes - owner of the Air Asia airline and Queens Park Rangers Football Club - has also been putting pressure on the team to become more self-sufficient. They have so far mostly been funded by his businesses.
"I want to take this opportunity to thank Jarno for the absolutely pivotal role he played in the formation and progression of our team since he joined us in December 2009," he said.
"Jarno knew that when he joined us it would be a very different environment to where he had been before, and when we gave him the package he wanted he absolutely shone.
"It was not an easy decision to replace him, but it was one we made to ensure we give fresh impetus across the whole team and with a realistic eye on the global economic market.
"We will do everything we can to welcome him in, give him a car he can use to showcase his skills, and keep up the rate of development that has seen us go from an empty factory with just four employees to a fully established F1 team in just over two years."