Nico Hulkenberg sets pace at Barcelona test
By Andrew Benson
Chief F1 writer
Last updated on .From the section Formula 1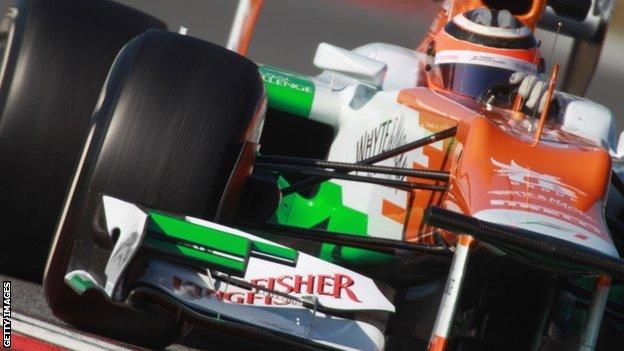 Force India's Nico Hulkenberg set the pace on the second day of the second pre-season test.
The German was 0.040 seconds ahead of Sauber's Sergio Perez. Red Bull's Sebastian Vettel was third.
Hulkenberg and Perez set their times on the fastest 'super-soft' tyres, while Vettel was on 'softs'.
Fernando Alonso's Ferrari jumped from fifth to fourth fastest with a late lap, while Lewis Hamilton's McLaren ended up sixth.
Ten of the 12 teams are running at Barcelona's Circuit de Catalunya until Friday.
All those taking part in the test are using their 2012 cars apart from Marussia, who have raced as Virgin for the last two years. Their new car is scheduled to run for the first time at the final test, also at the Circuit de Catalunya, starting on 1 March.
Lotus, who raced as Renault last year, had to abandon running on Tuesday after discovering a major problem with their chassis, while struggling HRT's new car is not ready after failing some mandatory crash tests.
"The car behaves really well in the high-speed corners - I think the baseline of our car is higher than it was last year - and it's better overall at high-speed," he said.
The presence of Hulkenberg and Perez as the fastest drivers - along with Toro Rosso's Daniel Ricciardo in fifth place - underlines the difficulty of predicting form at the first race in Australia next month from headline lap times in testing.
Teams prepare for all possible eventualities - and with 10kg of fuel equating to about 0.35secs a lap and cars needing about 145kg for a race, there is a wide spread of performance and teams keep their programmes secret.
Tyres are also a major differentiator - supplier Pirelli says there is about a 0.6secs pace differential between the four compounds, super-soft, soft, medium and hard.
Vettel, world champion for the last two years, emerged from the first pre-season test in Jerez in southern Spain two weeks ago looking like the man to beat again in 2012 and he has continued that form in Barcelona.
Apart from being the fastest leading driver on both days, the 24-year-old German also completed what appeared to be effectively a race simulation run in the afternoon, doing 70 laps interspersed with three quick pit stops.
Vettel said: "We are on the right road with the car. The first impressions at the last test were fine. The car reacted the way we expected.
"We'll spend the coming days trying to make improvements, find more performance and make the car faster. But so far, so good."
Hamilton also seemed to do a race-distance run - albeit one punctuated by longer pit stops than Vettel's. And an analysis of lap times throughout the day seems to suggest that the Red Bull was the best part of a second quicker than the McLaren on Wednesday.
Alonso's best lap on Wednesday was about half a second faster than he managed on Tuesday while Hamilton was about 0.6secs down on his best Tuesday time.
This is an important test for Ferrari after they admitted in Jerez that they were "not happy" with the performance of their car, which is a radical departure in terms of design from last year.
Alonso admitted that he felt the team still needed to find some pace.
"At the moment we don't know exactly where we are," he said. "I think maybe we are not the fastest but definitely we are not the slowest."
Nico Rosberg has taken the new Mercedes over from Schumacher on Wednesday - they are the only team who have not already run their new car in Jerez.
Also running on Wednesday were Williams reserve driver Valtteri Bottas, Marussia's rookie Charles Pic and Caterham's new signing Vitaly Petrov.
SECOND PRE-SEASON TEST, DAY TWO, FASTEST TIMES
1 Nico Hulkenberg (Ger) Force India-Mercedes 1:22.608
2 Sergio Perez (Mex) Sauber-Ferrari 1:22.648
3 Sebastian Vettel (Ger) Red Bull-Renault 1:22.891
4 Fernando Alonso (Spa) Ferrari 1:23.180
5 Daniel Ricciardo (Aus) Toro Rosso-Ferrari 1:23.639
6 Lewis Hamilton (GB) McLaren-Mercedes 1:23.806
7 Nico Rosberg (Ger) Mercedes 1:24.555
8 Valtteri Bottas (Fin) Williams-Renault 1:25.738
9 Vitaly Petrov (Rus) Caterham-Renault 1:26.605
9 Charles Pic (Fra) Marussia-Cosworth 1:28.092