Pastor Maldonado sets pace in Barcelona third-day test

By Andrew Benson
Chief F1 writer
Last updated on .From the section Formula 1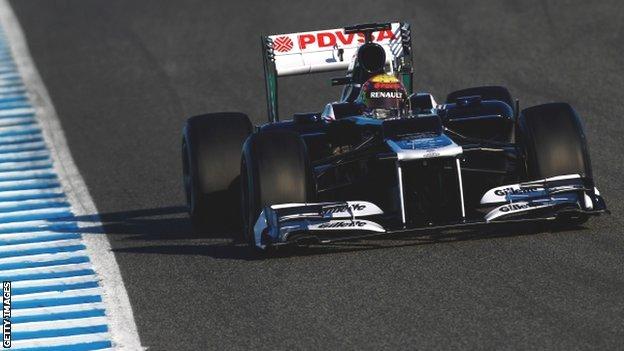 Williams driver Pastor Maldonado set the quickest time on the penultimate day of the second pre-season test.
To underline how unreliable testing is as an indicator of true form, the Venezuelan was 0.993 seconds clear of Michael Schumacher's Mercedes.
Sauber's Kamui Kobayashi was third, ahead of Jenson Button, who has taken over the McLaren from Lewis Hamilton for the final two days of the test.
The Toro Rosso of Jean-Eric Vergne was fifth ahead of Red Bull's Mark Webber.
Ferrari's Felipe Massa was seventh fastest as the teams all focused on learning about their cars, with just five days of testing remaining before the first race of the season in Melbourne, Australia on 18 March.
Maldonado's time is the fastest of the three days of the test so far.
Williams are hopeful of an improvement in form after the worst season in their history last year, but even they do not expect to be setting the pace in Australia.
Pre-season testing is notoriously unreliable as an indicator of competitive form, as fuel loads and tyres have a dramatic effect on lap times and it is impossible to know the specifications in which the cars are running.
All three top teams changed their drivers on Thursday at Barcelona's Circuit de Catalunya, with Webber taking over from world champion Sebastian Vettel and Massa from Fernando Alonso.
Button and Webber both did race-distance simulations, although the Australian stopped two laps early when a problem showed up in the telemetry. Another unspecified fault curtailed his running in the morning.
Button said: "We've done a lot of reliability work over the past three days - more than 100 laps on each day. Most of that has been longer runs, getting used to the feeling of the car over a long run and set-up work for the longer runs.
"There are a lot of cars out there that look competitive so we'll keep pushing. We should hopefully bring our upgrade package to the next test and that will see us through to the first race in Melbourne."
Alonso had said after finishing his testing for the week on Wednesday that Ferrari were "not where we want to be".
But a careful analysis of the lap times suggests that the Ferrari is actually pretty competitive, despite the generally cool message coming out of the team.
Hamilton and Vettel have been positive about the performance of their cars, and Webber's runs on Thursday continued to suggest that Red Bull remain the team to beat.
With testing ongoing, it has emerged that there is some debate about whether all are complying with new rules governing engine mapping.
This has been heavily restricted this season in an attempt to stop teams using exhausts for aerodynamic effect.
BBC Sport understands that the parameters being used by some teams are under discussion and that governing body the FIA may issue a clarification of the rules this week.
Ten of the 12 teams are testing in Spain. Lotus, who raced as Renault last year, had to abandon the test after seven laps when they discovered a problem with their chassis.
Lotus have asked for permission to do an extra day's private running, before the final official test starts on 1 March, to evaluate changes they have made to the car to fix the problem.
Unanimous agreement of the teams is required - and has been obtained - but the final say rests with governing body the FIA.
HRT's new car is not ready after failing to pass some of the mandatory crash tests.
Marussia, who were Virgin last year, are using their 2011 car this week ahead of the launch of their new machine at next week's final test, also in Barcelona.
SECOND PRE-SEASON TEST, CIRCUIT DE CATALUNYA THIRD DAY, FASTEST TIMES
1 Pastor Maldonado (Ven) Williams-Renault 1:22.391
2 Michael Schumacher (Ger) Mercedes 1:23.384
3 Kamui Kobayashi (Jpn) Sauber-Ferrari 1:23.582
4 Jenson Button (GB) McLaren-Mercedes 1:23.918
5 Jean-Eric Vergne (Fra) Toro Rosso-Ferrari 1:24.433
6 Mark Webber (Aus) Red Bull-Renault 1:24.771
7 Felipe Massa (Brz) Ferrari 1:24.771
8 Paul di Resta (GB) Force India-Mercedes 1:25.646
9 Timo Glock (GER) Marussia-Cosworth 1:26.173
10 Vitaly Petrov (Rus) Caterham-Renault 1:26.448