Bahrain Grand Prix a certainty in 2012 - Bernie Ecclestone
Last updated on .From the section Formula 1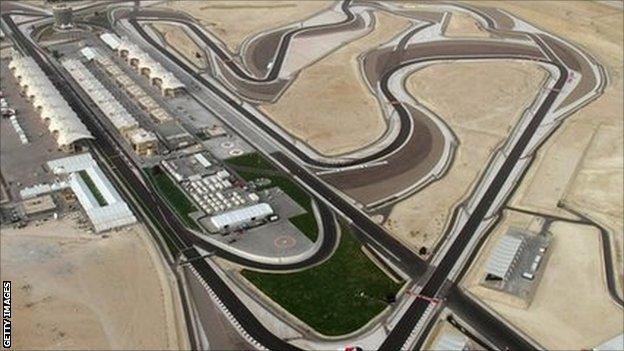 Formula 1 boss Bernie Ecclestone says he is "100% sure" that the Bahrain Grand Prix will go ahead this year.
It was cancelled in 2011 following civil unrest in the Gulf state, and ongoing disorder has led to questions over whether the race should go ahead.
Ecclestone said: "Nobody is saying we're not going or we don't want to go. Everybody is quite positive.
"I've told the teams there's no problem at all. I'm absolutely 100% sure we'll go and there will be no problem."
A group of British peers last week expressed their belief that it would be wrong to hold the race while the political situation in the country is not stable - although an all-party group of MPs responded by saying they felt it should be held to help Bahrain prove "its sincerity in the cause of reform".
This week it has emerged that the man who last year led a critical report of the ruling royal family's response to unrest felt the race should go ahead this time around.
In a letter seen by BBC Sport, Mahmoud Cherif Bassiouni described holding the grand prix as "an important point of departure for the people of Bahrain to forge ahead in their national efforts towards reconciliation".
On Thursday, Ecclestone said he believed the Bahraini authorities would take extra security precautions to ensure the unrest did not affect the race or the safety of those attending it.
"I am sure the people there will make sure, just in case there's a problem. I am sure there won't be a problem," he said.
Asked about media reports of a British man having fingers chopped off in violence marking the anniversary of the uprising, Ecclestone shrugged.
"But you don't know why. There are probably people here that had worse things happen to them. It happened to me actually," said the billionaire, who was mugged in 2010 for his watch near his office in the wealthy Knightsbridge district of central London.