Lewis Hamilton may leave McLaren says Bernie Ecclestone
Last updated on .From the section Formula 1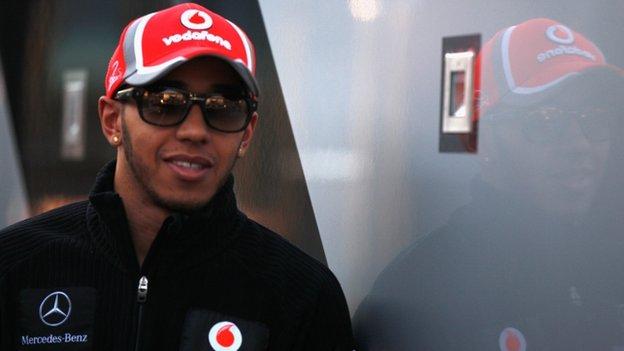 Formula 1 boss Bernie Ecclestone says Lewis Hamilton may leave McLaren at the end of the season if he struggles to mount a serious title challenge.
Hamilton, whose contract expires at the end of the season, won the world title with the British team in 2008.
But he has since finished no higher than fourth in the world championship.
"I think if he doesn't perform this year he'll be looking maybe to move on, and the team may also be looking for him to move on," said Ecclestone, 81.
Asked if he thought Hamilton, 27, would end his career at McLaren, the F1 boss replied: "I doubt that."
McLaren have not won a constructors' championship since 1998 and have won just one drivers' title in the last 10 years.
With seats at Red Bull, Ferrari and Mercedes available next year, Hamilton has options, should he wish to leave the team which has supported him all the way through his racing career.
Hamilton endured a turbulent season in 2011 which yielded only three wins and a host of on- and off-track controversies.
He also said that not having the right combination of people around him was one of the reasons for his troubled mindset last year.
But earlier this month, he said he was "in a good place" mentally after spending the winter analysing his mistakes.
The 27-year-old has also taken on Didier Coton, who previously worked with double world champion and former McLaren driver Mika Hakkinen, as part of his management team.
But while Ecclestone believes Hamilton is in a better frame of mind this season, he is still unsure about his management set-up.
"I spoke to him [Hamilton] the other day and I think he's a bit more focused," said Ecclestone.
"But I don't agree with the people he's got surrounding him and so-called managing him. I think he doesn't need that sort of management."
Asked what type of management Hamilton needed, Ecclestone said: "Someone with their feet on the ground.
"It's a people's job. They don't have to know about technical issues, someone who if you've a problem you can talk to the guy.
"His dad [Anthony] was good, wasn't he? His dad was the right person."
And when asked about his thoughts on Coton, Ecclestone said: "Let's see. I hope so [that he is right]."