Marussia miss final pre-season F1 test session after failed crash test
Last updated on .From the section Formula 1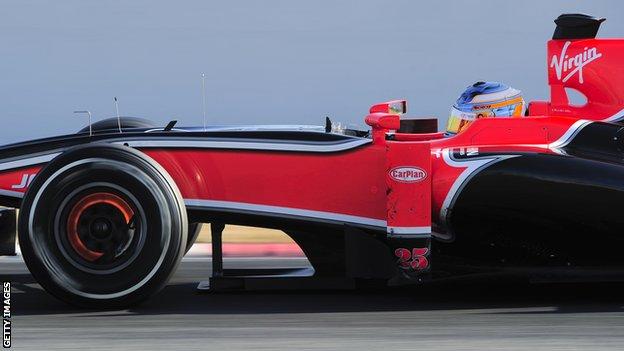 Marussia will miss the final pre-season test in Barcelona because their new car has failed a mandatory crash test.
The team, formerly Virgin Racing, said their MR01 car had failed the final test after passing 17 previous ones.
Under new rules this season, cars must pass all 18 tests before being allowed to run in the pre-season sessions.
It means the struggling team will arrive at the first race of the season in Melbourne next month having never run their new car.
"The team will not take part in the final pre-season test and will focus its efforts on repeating the crash test at the end of the week," they revealed.
"We are disappointed to confirm that the planned first test of its 2012 race car - the MR01 - has been delayed as a consequence of not passing the final FIA crash test.
"All cars are required to pass 18 FIA-observed tests for homologation to be granted.
"Despite the fact that the MR01 has passed all 17 of the preceding tests, the regulations require the car to have completed all of the tests before running commences."
Final testing starts on Thursday and ends on Sunday 4 March.
Only Marussia and HRT have yet to present their new cars. HRT said that their car had finally passed the crash tests but they have not said whether they will test.
The 20-race season starts in Australia on 18 March which means that the Russian-licensed team - if they pass the test - will turn up in Melbourne with an untried car, having tested their 2011 one in Barcelona at the recent testing session.
The British-based outfit's drivers are Germany's Timo Glock and French rookie Charles Pic.
The team, who made their debut as Virgin in 2010, have yet to score a point in Formula One.