Plans to lower Formula 1 pit lane speed limit rejected by FIA
By Andrew Benson
Chief F1 writer
Last updated on .From the section Formula 1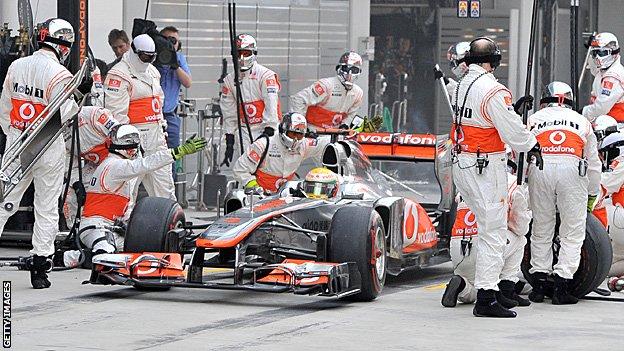 Formula 1's governing body has rejected a move by teams to lower the pit lane speed limit during races.
Most teams backed a proposal to lower the limit from 100km/h (62mph) to 60 km/h (37mph) in the interest of safety.
But race director Charlie Whiting has told them he feels there is no need to make the change as there is no evidence that the current arrangement is unsafe.
The speed limit is 60km/h during practice, but is raised for qualifying and the race.
The move was proposed following an incident in sportscar racing. A mechanic was killed at Zolder in Belgium last year when the car he was working on suffered a brake failure as it was approaching the pit.
But the FIA felt that incident was caused by a mechanical failure rather than excessive speed.
Their view is that there have been no pit-lane accidents in F1 that have been caused by excessive speed since the current limits were introduced.
A number of measures are already taken to increase safety in the pits during qualifying and the race.
No guests or media are allowed in the pit lane, apart from television pit-lane reporters and photographers under strict restrictions, and pit crews are only allowed out of the garages when they are getting ready for a stop.
A secondary consideration was that lowering the speed limit in the pits would have an effect on the strategies the teams employed during the races.
It would most likely lead to them doing about one less pit stop in each race - which would be counter to the approach the sport is taking with tyre supplier Pirelli in trying to encourage multi-stop races.
The FIA also considered what the cars would look like travelling down the pits at 60km/h during the race and felt that they would appear too slow.
The rules contain a clause that allows Whiting to recommend to stewards a lowering of the pit-lane speed limit at any event if he feels there is a safety risk.