Romain Grosjean beats Jenson Button in Barcelona testing
By Andrew Benson
Chief F1 writer
Last updated on .From the section Formula 1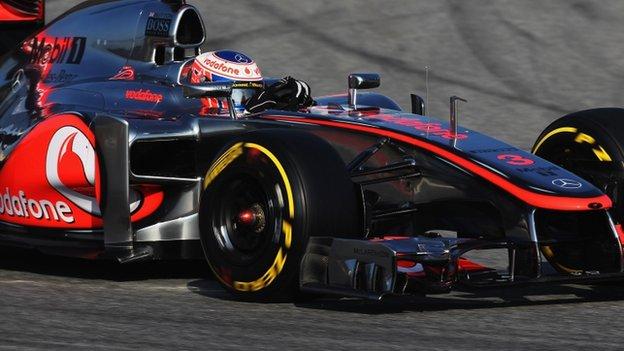 McLaren's Jenson Button was pipped to the fastest time on the first day of the final pre-season Formula 1 test by Lotus driver Romain Grosjean.
The 2009 world champion had led for much of the day before the Franco-Swiss used softer tyres to beat him by 0.258 seconds in the closing minutes.
Sauber's Sergio Perez was third fastest ahead of Mark Webber's Red Bull.
Ferrari continued their low-key form as they struggle to understand their new car with eighth place for Felipe Massa.
Headline lap times from pre-season testing are notoriously unreliable as an indicator of true form, as they are vulnerable to fuel load and tyre choice. There can be as much as six seconds a lap between a car on full tanks and low tanks.
Button's fastest lap had put him top of the timesheets for most of the day - and it was especially impressive as it was set on the hardest and therefore slowest of the four Pirelli tyres available.
Grosjean beat it using 'soft' tyres - two grades softer than the hards on the McLaren, and therefore approximately 1.2 seconds a lap faster.
Nevertheless, it was a confidence-boosting performance for the Lotus team, who had to abandon the second pre-season test last week after discovering a problem with the front suspension mounts coming loose on the chassis.
"When you have a problem you are a little bit wondering what is going on," Grosjean said, "so we checked all day long that everything was fine - but I knew what we needed to do to repair the car and make it strong.
"It doesn't change much. [I have] Exactly the same good feeling as in Jerez [at the first test], we can push and we can trust the car - and you can really play with it, which is enjoyable."
McLaren have a raft of new parts to fit onto the car at this test but they said they would spend the first two days focusing on race work, before moving on to the upgrades on Saturday and Sunday.
Team manager Dave Redding said: "We wanted to drill a little deeper into our understanding of the car, and that meant undertaking some bigger set-up changes that wouldn't ordinarily be available to us during a grand prix weekend.
"We made good progress and we're satisfied with the results."
Button hands over to Lewis Hamilton on Friday, before getting the car back for Saturday. Hamilton runs again on the final day.
It is a pattern shared by all the top teams - with Sebastian Vettel, Fernando Alonso and Michael Schumacher all driving on Friday at Red Bull, Ferrari and Mercedes in place of Webber, Massa and Rosberg.
Webber said he was pleased with the work Red Bull had been doing, and predicted the competition would be close at the start of the season.
"It is going to be really tight," the Australian said.
"The racing will be between several teams for sure, and it is difficult to understand who is doing what at the moment because we have such a big variation in fuel and tyre conditions and all sorts of stuff.
"You can analyse it until you are blue in the face, but ultimately, even until I've done the race in Melbourne, we then need to go to Sepang [in Malaysia], and we need to get a picture of how the championship is unfolding.
"It's not just going to be one event. One 90 minute race in Albert Park won't be deciding the championship.
"It's going to be whoever can pull things together for the first part of the championship, come back with some decent points, and go from there."
Red Bull and Ferrari are also planning to try out major new parts for their cars, whereas Mercedes do not have many upgrades. The German team were, though, trying a new rear wing on Thursday.
Rosberg said: "It is just great to be part of this progress within the team, everybody is very motivated, pushing hard, and it nice to be part of that.
"I look forward to what's to come, and to be part of this climbing towards the front.
"We have made a good start, so it seems that everything is going in the right direction."
Ten of the 12 teams are at Barcelona's Circuit de Catalunya for their final four days of preparation ahead of the first race of the new season in Australia on 18 March.
Struggling HRT and Marussia, who raced as Virgin last year, have not been able to test their new cars so far.
HRT are racing to get their car finished in time to run it for the final day of the four-day test on Sunday.
Marussia failed a mandatory crash test, which they hope to pass this week, but will not be able to run in Barcelona. McLaren's Jenson Button was pipped to the fastest time on the first day of the final pre-season Formula 1 test by Lotus driver Romain Grosjean.
Final pre-season test, Barcelona - day one fastest times
1. Romain Grosjean (Swi) Lotus-Renault - 1 minute 23.252 seconds
2. Jenson Button (GB) McLaren-Mercedes - 1:23.510
3. Sergio Perez (Mex) Sauber - 1:23.820
4. Mark Webber (Aus) Red Bull-Renault - 1:23.830
5. Nico Rosberg (Ger) Mercedes - 1:23.992
6. Jean-Eric Vergne (Fra) Toro Rosso-Ferrari - 1:24.216
7. Paul di Resta (GB) Force India-Mercedes - 1:24.305
8. Felipe Massa (Brz) Ferrari - 1:24.318
9. Vitaly Petrov (Rus) Caterham-Renault - 1:24.876
10. Pastor Maldonado (Ven) Williams-Renault - 1:25.587