Mark Webber expects Lewis Hamilton to rediscover top form
By Andrew Benson
Chief F1 writer
Last updated on .From the section Formula 1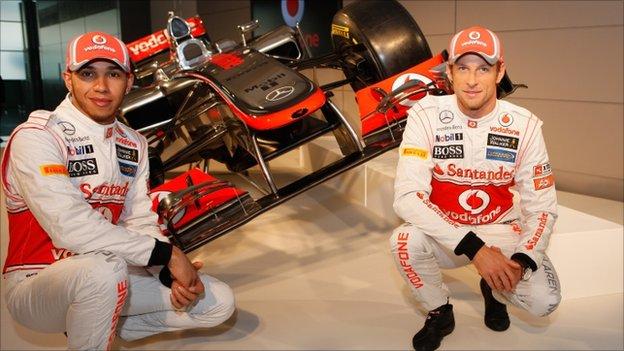 Mark Webber hopes Lewis Hamilton can regain his best form but has urged his Formula 1 rival to "look in the mirror and work out what's best for him".
Hamilton had an up and down time in 2011, involved in several controversial incidents on the track as well as issues in his personal life.
But Webber believes the 2008 world champion will be a threat in 2012.
"He was involved in more incidents than he would have liked but he's clearly gifted behind the wheel," he said.
The Australian, who was talking in an exclusive interview with BBC Radio 5 live, emphasised that he did not feel Hamilton deserved some of the criticism that came his way for his fluctuating performances in 2011.
He said: "It's normal for a sportsman or woman to go through some headwinds in their career - particularly someone like him who had so much success so early, and he's black, and he's got interest, and he's got a girlfriend of profile.
"This is of interest to a lot of people and it needs managing."
Hamilton's on-off relationship with the pop star Nicole Scherzinger was one of the causes behind his troubles in 2011 - the two split in October but have recently been photographed together again.
Hamilton has also added double world champion Mika Hakkinen's former adviser Didier Coton to his management team to provide him more support.
Webber added: "Let's hope he's strong but not too strong. As a competitor you hope he can realise his potential but clearly we still want to beat him."
Webber had his own problems last season, winning only one race to the 11 victories team-mate Sebastian Vettel achieved on his way to the drivers' title.
It was a disappointing haul for Webber considering he had led the championship for much of 2010 and been in contention for the drivers' title until the final race.
But he is confident he can get back to his best and challenge Vettel more closely in 2012.
"There is no reason why I can't pick up that 2010 form again," Webber said.
Webber's Red Bull team, world champions for the last two seasons, are widely accepted to again be in the strongest position heading into the new season.
But the 35-year-old said there was no prospect of the team becoming complacent.
"Inside the team we are working very hard," he said.
"There have been no victories yet and when and if we get that victory we need to keep working even harder.
"We have some tough rivals. Everyone is excited about the possibility Red Bull may get beaten - that's what people probably would like.
"We are a straight up and down outfit. Even when you have an Adrian Newey [their lauded design chief], there are so many ways you can find yourselves in a position to screw opportunities up and we haven't done that. That's what we need to keep doing."
Webber said he was optimistic he could start the season on a high at his home race in Melbourne, Australia, where he has struggled in recent years.
"It's the best I've felt for a while going into the first race, in terms of preparation and how we're going to tackle that first event," he said.
"Along with Monza they are the two ones I would definitely like to win. I've won some other classics, it would be great to win my home race and blow the roof of the place, but you take care of the processes and not get too far ahead of yourself.
"There are a lot of landmines waiting for us so we need to be ready for them."