HRT miss final test with new car
By Andrew Benson
Chief F1 writer
Last updated on .From the section Formula 1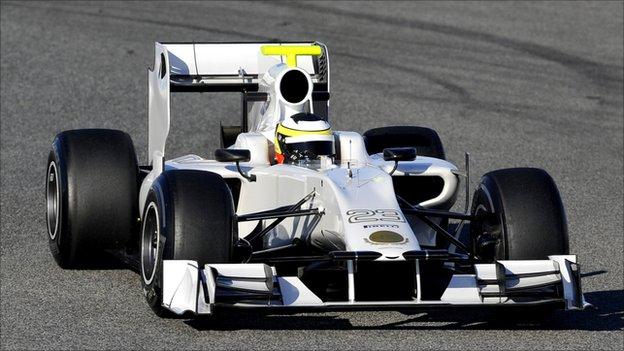 HRT have failed in their attempt to get their new car ready in time to test before the start of the season.
The struggling Spanish team had planned to run at the final pre-season test on Sunday at Spain's Circuit de Catalunya.
But they had to abandon the plan when they failed to get it built in time at their facility in Munich, Germany.
They plan a limited amount of running at a 'filming day' (Monday or Tuesday) but, like Marussia (formerly Virgin), have no serious pre-season testing.
Teams are allowed to do a maximum of 100km (62 miles) of running on 'filming days' and can only use demo tyres.
HRT have sent a letter to the other teams asking for their permission to run as teams are meant to give seven days' notice of a filming day. Permission is expected to be granted.
It means both teams will head out for practice at Melbourne's Albert Park track on Friday 16 March having effectively had no preparations.
Marussia are also planning 'filming days' at Silverstone on Monday and Tuesday, and can take part in these whether or not they have passed the one crash test they have failed.
Marussia team principal John Booth said the crash test would be conducted over the weekend.
"We're going to make sure we get it right this time," he told BBC Sport
Marussia president and sporting director Graeme Lowdon added: "Although we've had a failure on one of the 18 tests, it's more of a logistical issue than an engineering one and we're confident we'll be there on the grid."