Mercedes boss Ross Brawn predicts 'tightest season for years'

By Andrew Benson
Chief F1 writer
Last updated on .From the section Formula 1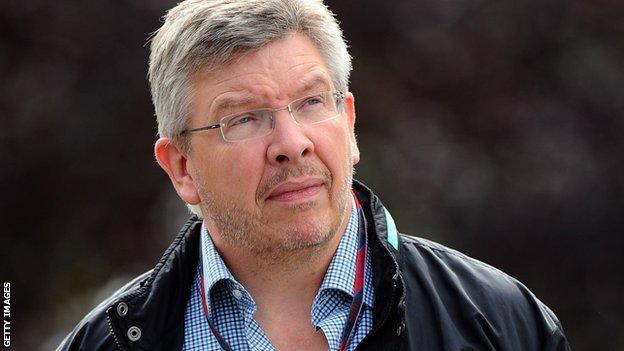 Mercedes team boss Ross Brawn says the new season will be one of the closest there has been for years.
Speaking at the end of pre-season testing, Brawn said it was extremely difficult to say which teams were in the best shape but that the entire field had closed up.
"I'm expecting the tightest start to a season we've seen for a number of years," said Brawn.
"I think we're going to have a really exciting season."
Brawn - whose team are hoping they can mix it this season with leading outfits Red Bull, McLaren and Ferrari - said the 12 days of pre-season testing had not provided a clear picture of the teams' ranking.
Fuel loads and different tyre choices make it very difficult to read the testing times - as 10kg of fuel equates to about 0.35 seconds of lap time at the track where the teams are testing and cars can run as much as 160kg.
There is also a total of more than a second a lap between the four choices of tyres.
"[Form] varies from day to day so there is no definitive ranking," said Brawn, the man who has masterminded all seven of Michael Schumacher's world titles.
"There is a group. Even [Saturday] with the new [upgrade] package the Red Bull didn't seem to stand out. But they may have been running a huge amount of fuel, we don't know.
"They're going to be competitive, McLaren look pretty sensible - they look as though they have a good car - and I don't think we're too far off. It is so difficult to judge.
"But there are five or six teams that are a much closer grouping than we have seen for a number of years. I have a feeling it is going to be quite close when we get to the first few races."
This season the Formula 1 field features six world champions for the first time in history - Mercedes' Schumacher, Red Bull's Sebastian Vettel, Lewis Hamilton and Jenson Button of McLaren, Ferrari's Fernando Alonso, and Kimi Raikkonen, who is returning with Lotus after two years in rallying.
"We'd love to help Michael win another title," Brawn said. "But equally we'd like to add another [champion] with Nico [Rosberg, his Mercedes team-mate].
"It is great for F1 to have so many world champions, but just the quality of the field and the fact the cars look as if they're going to be a bit closer [means] I think we're going to have a really exciting season. It could be one of the best for a number of years."