Marussia reveal 2012 F1 car at Silverstone
Last updated on .From the section Formula 1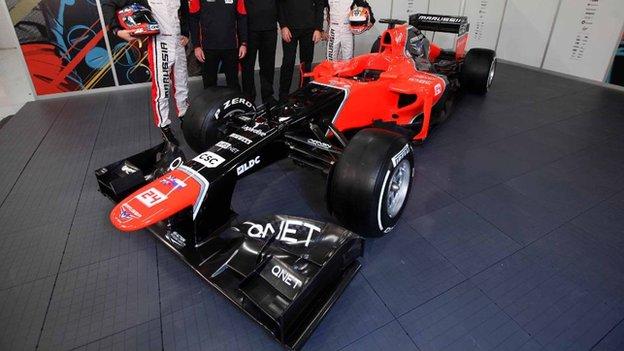 Marussia have released the first images of their new MR01 car ahead of the 2012 Formula 1 season.
The Cosworth-powered racer was unveiled at Silverstone during a promotional event, where driver Timo Glock put it through its paces.
The team, formerly known as Virgin, published pictures of the car on Twitter on Monday morning.
A week ago, Marussia pulled out of planned F1 testing near Barcelona after the MR01 failed an FIA crash test.
The car failed just one of 18 tests, which was for rear-impact, and must pass it before the team can race in the new season's opening grand prix in Australia on 18 March.
Marussia technical consultant Pat Symonds said: "The component in question has actually passed an 'unobserved' crash test but has been performing inconsistently in the observed tests.
"The fail has only been marginal but, nonetheless, we need to completely eradicate that margin and as such we are taking the time we have to ensure we have an even more robust solution in place."
Despite having not done any serious testing, Marussia, like all other teams, are allowed to do a maximum of 100km (62 miles) of running on "filming days", but can only use demonstration tyres.
Similarly, Spanish outfit HRT have also planned a "filming day" for Monday or Tuesday.