HRT driver Narain Karthikeyan happy with Formula 1 car
Last updated on .From the section Formula 1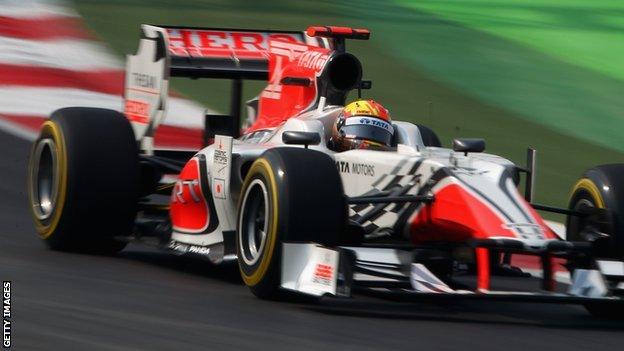 HRT driver Narain Karthikeyan says his team is looking forward to the new season after he was able to take the new car out on the track for the first time.
Karthikeyan managed 10 laps in the F112 during a filming day at Barcelona's Circuit de Catalunya on Monday.
HRT had missed the three pre-season tests this year.
Karthikeyan said: "I had the honour to be the first driver to test it, and the first impressions are quite good."
He added: "We couldn't do any set-up work or stuff like that, but everything seems to be working fine and there are no major problems so we can look forward to the season now.
"Everyone has worked hard and the new team management has put everything together in a very short period of time.
"They've done a proper job with the car and I'm sure it's a big step forward from last year, so hopefully we can take the competition to the teams we were fighting last year."
Team principal Luis Perez-Sala added: "I'm very satisfied. It was a very important day for us because we were able to test some things out with the new car during this filming day.
"Now we have to focus on Australia because we still have a lot ahead."