Jaime Alguersuari has no regrets about Red Bull exit

By Andrew Benson
Chief F1 writer
Last updated on .From the section Formula 1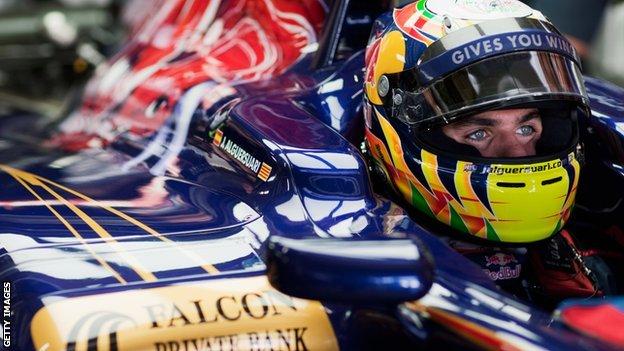 Jaime Alguersuari was in Madrid attending a sponsorship event for Red Bull when he got the call.
Two weeks earlier, the 21-year-old Spaniard had finished his second full season in Formula 1 with Red Bull junior team Toro Rosso on a high, so he was not expecting what happened next.
"They called me and they said: he recalls.
"It wasn't just the previous two-and-a-half years in F1. I've been with Red Bull since I was 16. I worked for them for six years and one day they call me and say: 'Ciao.'"
That was the start of the road that ended on Tuesday with Alguersuari attending a media event in his new role as BBC Radio 5 live's expert analyst this season.
Instead of racing in the grands prix, he will be commentating on them alongside James Allen.
If there was ever any furniture thrown in Alguersuari's apartment in Barcelona, you would not know it now. He is sanguine, lucid and talkative as ever - and he says it took him less time to get over the disappointment than would be expected.
"It was not a great Christmas," he admits, "but it wasn't as difficult as everyone thinks.
"I know the Red Bull philosophy and they've always worked with this extra pressure, always asking you to do something you cannot achieve. Asking you to win a race in a Toro Rosso [last year] - forget it.
"I couldn't have done any more. I did my maximum. The season was for me amazing and the team did a good job as well. We got the maximum we could.
"I didn't know what I would be doing and that's why being here is good for me. It keeps me in F1, it gives me another experience in F1 but obviously I would prefer to be driving in F1."
The irony is that is exactly what Alguersuari could have been doing had he known a little earlier what Red Bull were planning to do.
"In Sao Paulo [at the last race of the season], I had some proposals to race in F1 in 2012.
"For me, the season went well. I was happy and the team were happy, and we were talking about making changes for this year. We hadn't signed any contracts or anything, but verbally it was already done."
So he told his suitors he was not available, only to find a fortnight later that he was.
His former Toro Rosso team-mate Sebastien Buemi was in the same position - although he has been retained by Red Bull as a reserve, it is clear he will never be given an opportunity to drive for the senior team, world champions for the last two years.
Buemi has turned instead to sportscars, but Alguersuari says that is not for him.
"No, that's avoiding F1," he says. "I am working for the radio and I will do some go-kart races to help with my physical training.
"I talked to some top teams about this, and we agreed. Racing elsewhere is just starting another career. It's doing something that's not F1."
So as he turns his attention to his new job, how does he see the season panning out?
"I think McLaren will be there," Alguersuari says. "We don't know what will happen because testing is not very significant, but I think McLaren and Red Bull will be there because they've been there for the last few years, but it's difficult to say who will be the winner."
And what of Ferrari, who have had a nightmare pre-season not being able to understand their car.
"Maybe," Alguersuari says. "In F1 you never say never. Anything can happen. Ferrari have shown good development over the last few years - with the F-duct and the blown diffuser in a way.
"At the moment it looks like the Ferrari is not quick enough in testing and everyone is saying Ferrari will be completely out of it.
"But I remember last year McLaren were slower than Toro Rosso in testing and Lewis [Hamilton] was saying the Toro Rosso is unbelievably fast, and we were thinking we were going to be top five in Melbourne.
"We were still 10th and 11th, which was good for us, but McLaren were second and third. They improved by 1.5secs in two weeks, so never say never in F1."