Jenson Button is biggest threat to Red Bull says Horner
Last updated on .From the section Formula 1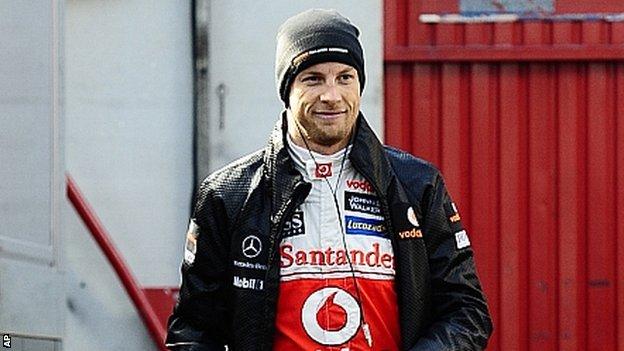 Red Bull boss Christian Horner says McLaren's Jenson Button is the biggest threat to his team this season, but warned that there is more to come from defending champion Sebastian Vettel.
Horner also named Lewis Hamilton of McLaren, Ferrari's Fernando Alonso and Kimi Raikkonen of Lotus as contenders.
But he insisted Red Bull's back-to-back champion Vettel will take some beating.
"We are yet to see the best from him," Horner told BBC Radio 5 live. "He will evolve and get stronger."
Button, the 2009 world champion, finished second to Vettel in the 2011 season, a distant 122 points behind the German.
With the 2012 season poised to start in Australia on 18 March, Horner is predicting a closer contest for the title this time round.
"Seb had an unbelievable year and in the end dominated significantly," he said. "But there are some big opponents out there, with six world champions on the grid.
"Lewis is going to be pushing hard this year, Jenson had a great year last year, you can't rule out Fernando because he is a world-class driver and it will be interesting to see how Kimi fares on his return."
Asked to pick out the strongest rival to Vettel and his team-mate Mark Webber, Horner responded: "Probably Jenson."
Horner said he was happy with Red Bull's car after they successfully trialled upgrades during pre-season testing in Barcelona.
"Those upgrades seem to be working OK and will certainly be on the car in Australia in 10 days' time," he said.
"I think we're set for a really fascinating season. Things move on so quickly and the running order at the end of last year doesn't guarantee it's going to be the running order at beginning of this year."