2012 Formula 1 season - everything you need to know
By Andrew Benson
Chief F1 writer
Last updated on .From the section Formula 1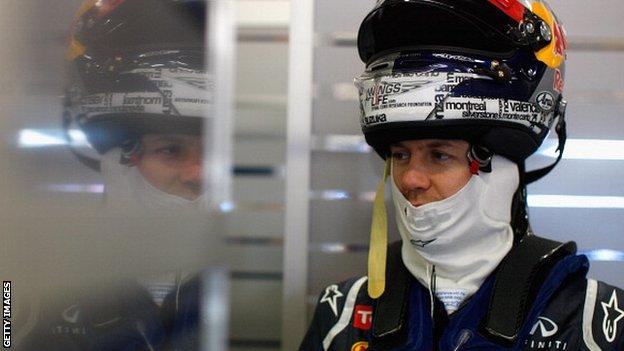 Like watching grands prix on a Sunday but don't devote every waking second to thinking about Formula 1?
Think Lewis Hamilton is exciting, Jenson Button cool, and wish someone would tell Sebastian Vettel where to stick his index-finger salute?
Don't know a blown diffuser from a blown engine and think pull-rod suspension might be something you'd use to erect a garden shed?
Well, it's time to start paying attention again because Formula 1 2012 blasts off this weekend in Melbourne, Australia. This is your guide to what has happened between the end of the 2011 season and the beginning of this one.
TV
Even the most casual Formula 1 viewer will probably not have missed the fact that the BBC is no longer the only place you can watch the sport in the UK.
Following a renegotiation of the BBC's rights deal, we are now sharing F1 with Sky. But all the races will still be shown on the BBC, with 10 live and extended highlights of the other 10.
You can follow all the races live on BBC Radio 5 live and this website, which will carry the radio commentary, and the first race that is live on BBC TV is the Chinese Grand Prix next month, the third race of the season. But that does mean you can stay in bed for the next two Sunday mornings and still see all the key action from Australia and Malaysia.
Qualifying highlights from Melbourne will be on BBC Two on Saturday at 1300 GMT, with the race on BBC One at 1400 GMT on Sunday. Full details here.
THE CARS
Formula 1 cars are supposed to be the epitome of aggressive elegance, masterpieces in combining aesthetics with purpose, the ultimate expression of beauty through performance, right? Well, not this year.
A badly thought-out rule change has led to nearly all the cars featuring a - frankly - ugly step halfway along the top of the nose.
Some say it looks like a platypus, others dub it the ugly duckling. But all agree it's an abomination which needs to be changed as soon as possible, though that is unlikely to happen before next year.
The two teams who, in different ways, have been the most successful in retaining some semblance of attractiveness about their cars are McLaren and Red Bull. Which brings us to…
THE TITLE BATTLE
Red Bull's Sebastian Vettel, world champion for the last two seasons and the youngest double winner in history, has not got any less confident over the winter.
Asked in an interview during the final pre-season testing session whether he considered himself to be the favourite again this year, he simply said: "Yes".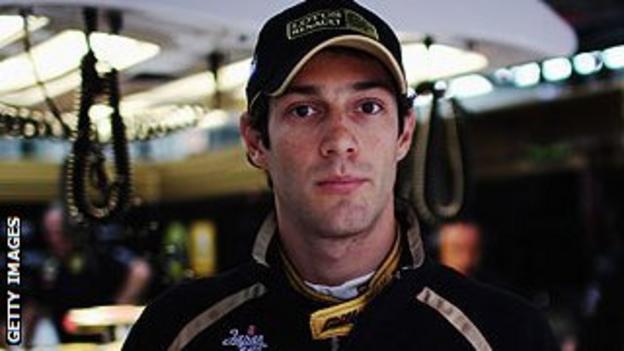 But McLaren look to have produced a car with which Button and Hamilton can challenge the German.
Hamilton, meanwhile, insists that a winter training programme in Colorado's Rocky Mountains has purged him of the demons that caused him to crash several more times than he won last year. An apparent reconciliation with pop-star girlfriend Nicole Scherzinger is also likely to help his peace of mind.
The intra-team battle between Button and Hamilton could well be at least part of the title fight - and even if it is not, it will be watched with great interest.
There is no doubt whatsoever that Hamilton is the faster of the two, but there is a nagging suspicion that it is Button's smoother style which best fits the current F1 rules - especially the deliberately fast-degrading Pirelli tyres.
Hamilton is out to prove that growing feeling wrong and will doubtless produce some typically spectacular results along the way.
FERRARI
If your sports consumption over the winter has been largely confined to men running around a field chasing a ball of one description or another, then you will have missed Ferrari's confident prediction that this time, finally, they would provide Fernando Alonso with a car in which he did not need luck to win races from the outset.
It turns out they were wrong.
The new F2012 is not only ugly, it is also badly behaved. It has proved unruly and unpredictable in pre-season testing and Alonso has said the team will "suffer" in the first few races as a result.
Ferrari's charismatic president Luca di Montezemolo has expressed a hope that things will not be as bad as most expect. But he's made it perfectly clear he wants answers - and fast - if they are.
HOW MANY WORLD CHAMPIONS?
This year's Formula 1 field is arguably the strongest in history - with six world champions competing together for the first time ever.
Just like the last two years, there's Vettel, Alonso, Hamilton, Button and Michael Schumacher, now in the third year of his comeback with Mercedes. But they have been joined by 2007 world champion Kimi Raikkonen, who has tired of bouncing off trees in a rally car.
Raikkonen, who was dropped by Ferrari in favour of Alonso at the end of 2009, has not exactly been living on his uppers. He presumably had saved some of his $50m (£32m) a year Ferrari salary to keep him going - and he was actually paid not to race by Ferrari in 2010.
Whether Raikkonen can add to his 18 wins is another matter. He has joined the Lotus team - whom most in F1 still find it difficult not to refer to as Renault, their identity since 2002. Their new car looks pretty decent, but they do not have the resources to compete at the front consistently.
Talking of Lotus, incidentally, the team that were called that in 2010 and 2011 are now called Caterham. I could go into why, but it would take more room than I have. So you'll just have to remember it.
NEW GENERATION...SORT OF
One familiar face who will be absent from the grid this year is Rubens Barrichello, who had been so determined to race on into a record 20th consecutive season this year that he refused to celebrate what everyone in F1 knew would be his final race in Brazil last year.
Dumped by Williams, Barrichello has found a drive in the US-based IndyCar series and everyone wishes the popular Brazilian well.
Barrichello, who is 40 this year, has been replaced by Bruno Senna - the nephew of the legendary Ayrton.
But the over-40s still represent nearly 10% of the grid, in the shape of Schumacher (43) and Spaniard Pedro de la Rosa, 41, who last raced regularly in 2010 but has found a berth at struggling HRT.
UP AGAINST IT
Talking of HRT, they are one of two teams not to give their car more than a cursory test before heading off to Melbourne - the other being Marussia, better known as Virgin for the last two years.
Both have been anchored to the back of the grid since they entered F1 in 2010 and, while they have ambitions to do something about it, there are no signs yet that this year will be anything other than another long, hard slog.
THE BAHRAIN CONUNDRUM
At 20 races, this year's F1 season is scheduled to be the longest ever.
But that was also the case last year, until the season-opening Bahrain Grand Prix was called off following civil unrest in the country.
What followed was an unedifying and transparent attempt to keep the race on the calendar, which did not finally fail until June.
The race is back on again this year but as the fourth event of the season rather than the first to take some of the focus off it.
Civil unrest continues in Bahrain and there have been demands to call off the race both from within the Gulf kingdom and outside - including from the UK House of Lords.
Inside F1, a lot of people are uncomfortable about going because of a combination of moral, political and personal safety issues.
But F1 boss Bernie Ecclestone is continuing with the policy he employed last year - brazen it out in the hope that it will all be all right in the end and the race will go ahead without trouble.
At the moment, the signs are that the momentum is in favour of the race going ahead. What happens if it does remains to be seen.