McLaren expect Button and Hamilton to challenge for F1 title

By Andrew Benson
Chief F1 writer
Last updated on .From the section Formula 1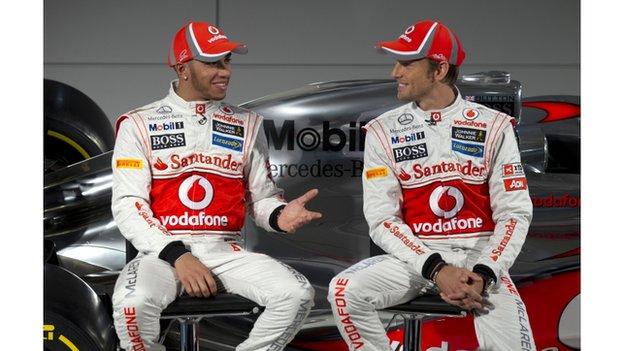 McLaren believe Lewis Hamilton and Jenson Button will be competitive in the new Formula 1 season.
The Woking-based team are confident its drivers can challenge for titles - and insist no team will dominate.
The pair won six races between them in 2011, but Red Bull's Sebastian Vettel won 11 races to take the title with ease.
"Our sense is we are competitive," McLaren team principal Martin Whitmarsh said.
"The bad news is we don't look like we're dominant, but the good news is no-one else looks like they're dominant either."
Whitmarsh said that the team had had a successful pre-season testing programme - in stark contrast to their preparations for last year - and that he was optimistic of a strong season.
"The winter has been better than last year," he said in a phone conference ahead of this weekend's season-opening Australian Grand Prix.
"We went to last year's Australian race having not completed a race distance and having been spectacularly uncompetitive.
"Fuel loads and tyre programmes interfere with the ability to judge relative performance, long runs give a better, fairer assessment, and based on that we feel that we are competitive.
"We brought modifications, developments and enhancements to the car and the car responded, and they delivered the performance we expected it to.
"So I think with reliability, a competitive car and responding to changes, that should give us the feeling we can be competitive.
"Aided by a strong team and two hungry racing drivers, we should be expecting to win races and if we can win enough we can win the championship."
He added that he felt Hamilton, who had a turbulent season in 2011, had found a better balance between his social life and work commitments over the winter.
He said Hamilton was focused on beating Button - who was second in the championship last year while Hamilton could only manage fifth - and on achieving greater success than in 2011.
"There is a lot of discussion about Lewis, how he was last year and how he is approaching this year," Whitmarsh said.
"The fact is Lewis is an immensely competitive individual. He has extraordinarily high standards. He only won three races last year, which is not what he expected from himself.
"When you have a season below your own high expectations when you're any athlete, including racing drivers, then you will choose to refocus and consider your approach.
"If he's going to have a long and successful career then he's got to have the right balance of enjoying life and motor racing, and being competitive and focused."