Kimi Raikkonen's return to F1 backed by David Coulthard
Last updated on .From the section Formula 1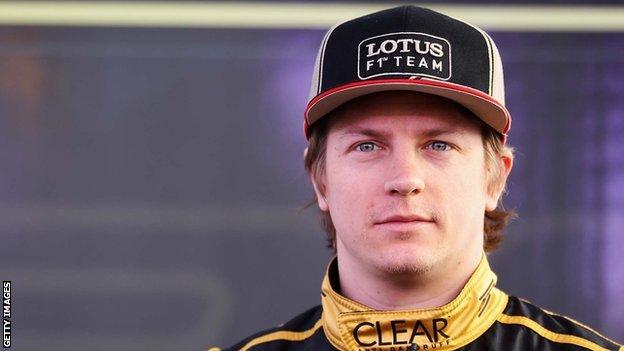 Kimi Raikkonen's return to Formula 1 means there will be six world champions on this year's grid, creating an extraordinary depth of talent arguably unrivalled in any other sport.
But when the Finn left Formula 1 in 2009, having won the world title in 2007 with Ferrari, he seemed tired of many aspects of the sport.
Will his absence have boosted his motivation? Can he recapture his former glories? What can he expect to achieve? BBC F1 co-commentator David Coulthard analyses the 32-year-old's return.
Were you surprised to hear Kimi was returning to F1?
"When I first heard, I was sceptical as to whether he would be able to reignite his desire to compete at the highest level.
"Then I did an event with him, Sebastian Vettel and some other drivers in Austria last year. We were in every type of motor vehicle you could imagine - motocross, motorbikes and single-seater cars - and he was the first on each of them, and last off. He was even tucked up in bed early.
"He is an enthusiast. He has great skills. He is the kind of guy who if you put him in anything with a motor, he has got the ability to take it to the maximum."
Why do you think he has returned?
"I think the reason he came back was purely a personal one. He wants to enjoy himself and I don't think he's got any greater agenda than that.
"I believe he missed the wheel-to-wheel competition and the buzz it gives you. There is a big difference between setting a great lap time in testing or on a world rally stage and the excitement of sitting on a grid waiting for the lights to go out.
"I had no real interest in driving a grand prix car round a race track just for the sake of chasing a lap time. I only had an interest in going wheel-to-wheel racing because that is the real adrenaline rush.
"Kimi is a racer. That is what he has missed doing having spent time competing in the World Rally Championship."
Will we see a different Kimi in his second career?
"I think there has been been a change in Kimi. Let's not forget that he arrived in F1 when he was 21, which is very young. He has now had a chance to go away and think about things.
"The two years he has spent away from the sport have allowed him to refocus on what he really enjoys doing - and that's racing. I think he'll come back a more mature driver.
"Now I know it's difficult to imagine why an ex-world champion could be the surprise of the season, but I think in this case, Kimi could be just that.
"I've gone from initially being sceptical to now being an absolute believer in his return. It's good for Kimi Raikkonen, it's good for F1 and it should be good for the fans."
Were you surprised when he left F1 at the end of the 2009 season?
"Kimi was released from his contract early to make way for Fernando Alonso at Ferrari. If I'm honest, I think it was a little early for him to leave the sport because he's such a big talent. He is one of the most naturally gifted drivers.
"In his first F1 career, when he raced for Sauber, McLaren and Ferrari, he could go from being asleep just before qualifying to delivering a lap that made your jaw drop. It was just incredible to watch.
"You could say that one World Championship doesn't really do his talent justice but there are guys who were great, great drivers who never got to win a grand prix. Life isn't fair."
How successful can he be?
"If Lotus give him the space to be himself, which is a happy racing driver who isn't required to get bogged down doing things he doesn't enjoy doing, I think he could be better in his second career than he was in his first.
"His results will ultimately come down to the performance of the car. Lotus have shown good form in testing but we won't know if that was showboating for sponsors or genuine pace until we get to Melbourne.
"What I do know is that Lotus have a winning DNA. They are a championship-winning team - having won world titles in their previous guises as Benetton and Renault - so I see no reason why they can't get back to being competitive.
"Can they really challenge Red Bull, McLaren, Ferrari and Mercedes? It's difficult to imagine at this moment in time but let's wait and see."
What's special about Kimi?
"He is totally relaxed in his own skin. Kimi is Kimi and he is not going to put on the jazz hands for anybody.
"There is nothing worse for any sport than to have a bunch of clones. You need different personalities and Kimi certainly has his own unique personality."
David Coulthard was talking to Lawrence Barretto.