Formula 1 2012: Follow the new season on the BBC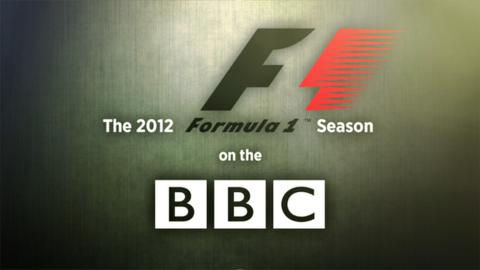 Formula 1 on the BBC enters a new era this year - it is the first time since the sport came back to the corporation in 2009 that we will not be showing every race live on television.
But you can still follow the entire season and watch every race on the BBC and in HD - 10 of them will be live on TV and there will be extended highlights of the other 10, plus practice, qualifying and races all live on radio and text commentary online.
The highlights programmes will broadcast all the key events of the race - you can expect in the region of an hour's worth of action - as well as including new analysis tools to take our post-race coverage with Jake Humphrey, David Coulthard and Eddie Jordan to a new level.
The 2012 season starts this weekend in Melbourne, Australia, and the BBC aims to build on its multi-award-winning coverage of the last three years and produce another compelling year of F1 broadcasting.
The BBC's F1 editor, Mark Wilkin, said: "Our coverage has always been about taking the viewers to the heart of the action at every grand prix, and that will not change this year.
"Regardless of whether we are broadcasting live or not, we remain committed to providing the best coverage of F1.
"The presenting team will be going to every race, and we have innovations that will shed new light on the sport. We are confident that the BBC will remain a standard-setter in providing viewers with everything they need to know about F1.
"Whether they be ardent enthusiasts or more casual fans, the BBC will provide a show for every part of the audience, laced with insight, humour and extensive access to all the key players."
So how will the weekend in Australia play out?
For the dedicated F1 fan, live coverage starts on Radio 5 live with the practice sessions on Friday 16 March - with first practice at 0125 GMT and the second session at 0525 GMT. The radio commentary, as well as live text commentary from both sessions, will be available online. Short highlights packages of practice will be available on the website later in the day.
Then on Saturday 17 March you can pick up live commentary on third practice at 0255 GMT, followed by qualifying at 0555 GMT, again on Radio 5 live plus online text commentary. TV highlights of qualifying, presented by Jake Humphrey, will be on BBC Two at 1300 GMT.
Sunday morning sees live coverage of the grand prix on Radio 5 live from 0530 GMT, with audio and text commentary on the web, then early afternoon extended TV highlights on BBC One at 1400 GMT.
There will be additional coverage available on the red button immediately after the highlights programme, including more extensive reaction and analysis recorded immediately post race.
Looking ahead to the rest of the year, BBC programmes around the 10 live weekends - the first of which is the Chinese Grand Prix on 13-15 April - will be as wide-ranging and comprehensive as ever.
They will include live video coverage of all three practice sessions on the red button and online, and extensive build-up and analysis of both qualifying and the race on BBC One.
The highlights programmes will be shown in prominent slots in the television schedules.
The races that take place early in the morning in the UK - such as the two season-opening events in Australia and Malaysia - will be shown in the early afternoon on Sunday.
And those that are in the European time zone - including Bahrain - will be shown in prime-time on Sunday evening at around 1730.
BBC viewers will not miss a single important moment of on-track action all season.
As before, all other TV coverage, with the exception of final practice on Saturday mornings, will be available on the iPlayer. This includes the popular red button F1 Forum when it runs after live races.
The simplest way to think about where and when there will be live BBC coverage is as follows:
On live race weekends, all coverage is live across TV, radio and online.
On highlights race weekends, all visual coverage is highlights but all audio and text coverage is live.
Mark Wilkin adds: "We have a fantastic presenting team this year across TV and radio, with Jake, David, Eddie and pit-lane reporter Lee McKenzie being joined by Ben Edwards as commentator and former F1 designer Gary Anderson as technical analyst. And on radio we have James Allen, Jaime Alguersuari and Jennie Gow.
"We believe we now have the strongest team ever assembled to cover F1 multi-platform and will produce the best season of coverage we ever have."
BBC F1 COVERAGE DETAILS
(All programmes BBC One unless stated)
Australia (highlights) - qualifying BBC Two 1300 GMT 17 March; race 1400 GMT 18 March
Malaysia (highlights) - qualifying 1300 GMT 24 March; Race 1445 BST 25 March
China (live) - qualifying 0600 BST 14 April; race 0700 BST 15 April
Bahrain (highlights) - qualifying 0530 BST 21 April; race 1730 BST 22 April
Spain (live) - qualifying 1210 BST 13 May; race 1210 BST 14 May
Monaco (live) - qualifying 1210 BST 26 May; race 1210 BST 27 May
Canada (highlights) - qualifying 2230 BST 9 June; race 2230 BST 10 June
Europe (live) - qualifying 1210 BST 23 June; race 1210 BST 24 June
Britain (live) - qualifying 1210 BST 7 July; race 1210 BST 8 July
Germany (highlights) - qualifying 1730 BST 21 July; race BBC Two 1730 BST 22 July
Hungary (highlights) - qualifying BBC Two 1730 BST 28 July; race BBC Two 1730 BST, 29 July
Belgium (live) - qualifying 1210 BST 1 Sep; race 1210 BST 2 Sep
Italy (highlights) - qualifying 1730 BST 8 Sep; race 1730 BST 9 Sep
Singapore (live) - qualifying 1310 BST 22 Sep; race 1210 BST 23 Sep
Japan (highlights) - qualifying 1300 BST 6 Oct; race 1400 BST 7 Oct
Korea (live) - qualifying 0500 BST 13 Oct; race 0600 BST 14 Oct
India (highlights) - qualifying 1300 BST 27 Oct; race 1400 BST 28 Oct
Abu Dhabi (live) - qualifying 1210 GMT 3 Nov; race 1210 GMT 4 Nov
USA (highlights) - qualifying 2230 GMT 17 Nov; race 2230 GMT 18 Nov
Brazil (live) - qualifying 1500 GMT 24 Nov; race 1500 GMT 25 Nov