Lewis Hamilton dismisses Horner comments over Button threat
Last updated on .From the section Formula 1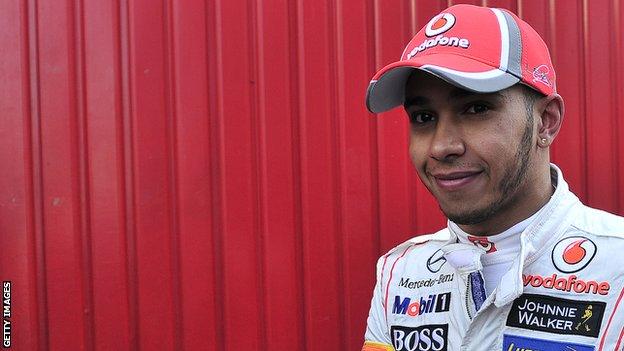 Lewis Hamilton has shrugged off Red Bull team principal Christian Horner's comments that his McLaren team-mate Jenson Button is a bigger threat.
Horner told BBC Sport he is predicting a closer contest for the World Drivers' Championship although he expects Sebastian Vettel to defend his title.
But he said that the German's main rival from another team was Button.
"It's the first time I've heard of [the remarks] but they definitely don't wind me up," said Hamilton.
"There are a lot of opinions, and everybody has their right to an opinion, but it doesn't really affect me.
"It doesn't really matter at the end of the day when I go out and do the job."
Hamilton equalled Button's tally of three grand prix victories last season but finished 43 points behind his team-mate in the final standings.
"Losing to Jenson didn't really bother me," insisted the 27-year-old.
"If it had been a case where we had been fiercely competitive throughout the year it would have been quite tough to deal with.
"But knowing it was a year where I threw away points, made very silly mistakes - sometimes a little unfortunate, but it was just a shocking year - I wasn't really too devastated by it.
"I've drawn a line under it because at the end of the day he didn't win the world championship, so it could have been even worse.
"But there are still many years ahead, and I don't plan on [what happened last year] being the case this year."
Hamilton, who will begin his sixth season in F1 in Australia on Sunday, is confident he can still become a multiple champion.
And he is equally dismissive of claims that he should have achieved more.
"There's no point saying whether I should have done better," said the 2008 world champion.
"Of course, given my own expectations, I would have liked to have achieved more and have done better.
"But the journey I've had is the one that has been mapped out for me, and I would say the learning curve has been a steep one.
"I'm only 27 so if I'm to race as long as Michael [Schumacher] is racing, then I've still quite some time on my side.
"Given that, I definitely feel as if I can win more titles. My commitment to that has never really changed."