Team profile: Williams
Last updated on .From the section Formula 1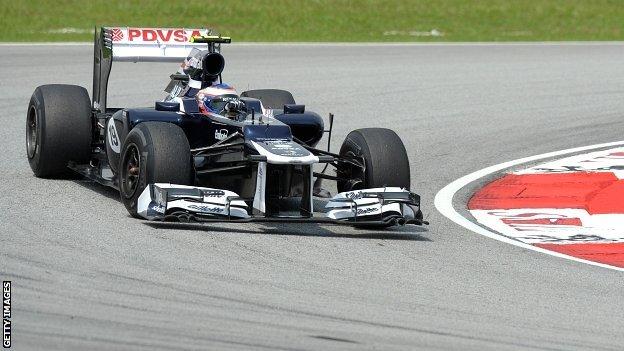 Williams have a long and successful association with Formula 1, which dates back to 1977 when Sir Frank Williams founded Williams Grand Prix Engineering.
Williams built his own car for the following season and the team have been an ever-present member of the F1 grid ever since, winning 16 World Championships - nine constructors', seven drivers'.
In only their third season in the sport, Alan Jones won four races on his way to the drivers' title, with team-mate Carlos Reutemann helping the team score almost double the points of second-placed Ligier to win the constructors' prize.
Between 1986 and 1997, Williams were at the height of their powers with Nelson Piquet, Nigel Mansell, Alain Prost, Damon Hill and Jacques Villeneuve winning drivers' titles.
The team suffered a drop off in form thereafter, but a tie-up with BMW improved and they tasted victory four times during the 2001 season through Ralf Schumacher and Juan Pablo Montoya.
In 2003, Montoya was in contention for the drivers' title before missing out to Michael Schumacher and the team finished second the constructors' championship.
The team's form started to nose-dive after BMW pulled out to finance its investment in Sauber at the end of 2005, with Williams opting for Toyota and later Cosworth engines.
The Grove-based outfit suffered its worst season to date in 2011, scoring just five points and finishing ninth in the constructors' championship. But since moving to Renault engines in 2012, and together with an internal restructure, their fortunes have improved, with Pastor Maldonado scoring their first victory since 2004 in the Spanish Grand Prix.
MEET THE BOSS - SIR FRANK WILLIAMS
What is F1's biggest challenge?
It was its credibility in the light of climate change and the excessive use of fossil fuels. That black cloud seems to be dissipating now, however, as we work hard at making the sport sustainable.
Over the past few years, there have been a number of useful and interesting technical spin offs from F1, namely Kers and the ongoing use of advanced aerodynamic materials.
As a sport, we always have to keep working at ensuring we provide an outstanding and unique spectacle for the fans as well.
Does F1 need road-car manufacturers?
I think so because they bring prestige and funding into the sport, even if for their own teams, it still spreads. They also raise the bar and [force] other teams to excel.
The best piece of advice I've ever given a driver is…
No answer, I don't want to look pompous!
The best piece of advice I've received is…
From Bernie when I first came into F1 - "keep your head down, say little, do much."
Wheeler-dealer or techie?
Other. I am an overseer of a resoundingly talented pool of people who do all the work and come up with all the ideas.
What was your first paid job?
Selling Campbell's Soup.
What time do you set your alarm clock for?
Currently 0600.