Formula 1's greatest drivers. Number 19: Graham Hill
Last updated on .From the section Formula 1
BBC Sport is profiling 20 of the greatest Formula 1 drivers of all time. The BBC F1 team were asked to provide their own personal top 20s, which were combined to produce a BBC list.
Chief F1 writer Andrew Benson profiles number 19, Graham Hill - while Murray Walker gives his own recollections in the video above.
Damon Hill makes a thought-provoking observation about his father Graham.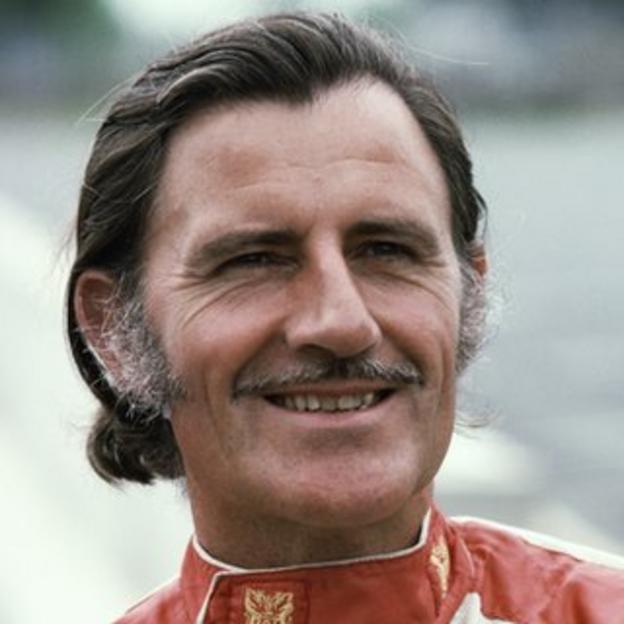 Despite winning two Formula 1 titles, as well as being the only man to win the 'triple crown' of F1 world championship, Le Mans and Indy 500, Graham Hill always had the image of a 'trier' - a man who made it to the top through hard graft, rather than the easy talent of his contemporary Jim Clark.
Damon sees it another way. His dad, he said, had only passed his driving test at the age of 24, was in F1 five years later, and won the Monaco Grand Prix five times, whereas Clark was racing competitively from the age of 20. So who, Damon said, had the greater natural talent?
It was a rhetorical question and Damon was talking about himself as much as his father - he, too, was perceived as a 'trier' racing a greater natural talent - in his case Michael Schumacher.
But it raises an interesting point, which Damon expands on: "My dad's experience was, just because someone's got greater natural ability doesn't mean they can't be beaten. It's just going to be harder. So if you get to the same level as them but you've had to try harder, who's the better driver?"
Even Damon would be hard-pressed to make the case that his father was a better driver than Clark, who has his own place somewhat higher on this list, but certainly Graham Hill's reputation somewhat underplays a formidable talent.
In many ways, Hill came to personify grand prix racing to the British public through the 1960s. His easy charm, star quality and distinctive Terry-Thomas moustache made him not only an instantly recognisable figure, but also a fixture on television, in those early days of the medium.
But his fame was based on substance as much as style. He was undoubtedly one of the greatest drivers in one of the strongest fields in F1 history - with Clark and Hill racing alongside Jackie Stewart, Dan Gurney, John Surtees, Jochen Rindt and Jack Brabham.
Hill won his first title for BRM in 1962, and had to wait six years for his second - when, with his 40th birthday approaching, he carried the Lotus team through the dark days following the death of Clark in a Formula 2 race early in the year.
But he also came close to the title in 1964, narrowly losing out to Surtees at the final race of the season after Ferrari's Lorenzo Bandini let his English team-mate by into the second place he needed to pass Hill's points total.
In between, Hill carved a reputation as 'Mr Monaco', the most glamorous name in the sport appropriately making its most glamorous event his own, with five wins in seven years on the unforgiving streets of the Principality.
Among those victories, only surpassed by Ayrton Senna, was the one Hill himself classed the best drive of his career - in 1965, when he recovered to win from 34 seconds behind after taking to the escape road at the chicane to avoid hitting another car.
After his second title, Hill won only once more in F1 - fittingly, in Monaco in 1969. At the end of that season he broke his legs badly in a violent crash caused by a tyre failure in the US Grand Prix at Watkins Glen.
He was never the same driver again - although he did win Le Mans in 1972 - but he refused to give up and even set up his own team in 1974, racing on until a failure to qualify in Monaco in 1975 finally convinced him the time had come to retire.
He carried on running the team, led by his young English protégé Tony Brise. But returning from a test in France in November of that year, Hill crashed his light aeroplane trying to land in dense fog at Elstree, and he, Brise and four team members were killed.
The crash left his family - wife Betty, and Damon and his two sisters - in financial trouble as Hill's insurance was invalid and they were left to field the claims of the families of those killed alongside him.
Many career summaries tend to gloss over that last unfortunate fact, as well as the less well-known tough and uncompromising side to Hill's character. But this is probably a measure of the affection still felt for a man who carved an indelible place in F1 history.
With era-defining looks, the wit to trade one-liners with Morecambe and Wise and the ability to race with the best, Graham Hill was truly one of a kind.