Australia GP 2012: Gary Anderson's technical review

By Gary Anderson
BBC F1 technical analyst
Last updated on .From the section Formula 1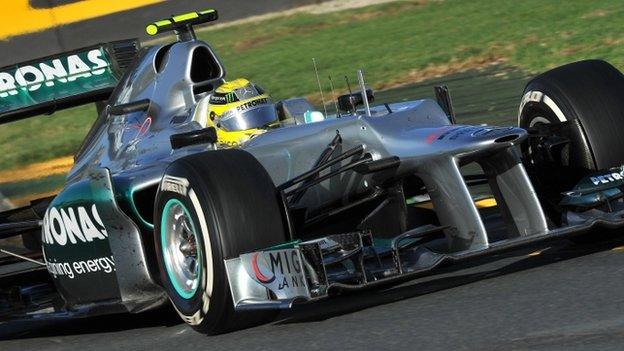 The foundations for Jenson Button's victory in the Australian Grand Prix were laid long before Sunday afternoon in Melbourne.
Button lost out on pole position to team-mate Lewis Hamilton but he drove away to a dominant victory after taking the lead at the start.
His good getaway gave him the track position he needed, but it was his preparation work throughout the weekend that allowed him to beat Hamilton.
In my opinion, Button plans a race better than Hamilton, while Hamilton is better at driving by the seat of his pants.
So a one-off special qualifying lap is Hamilton's speciality.
I think Button concentrated more on the car with race levels of fuel in it and made sure he knew what the car was going to do in that state.
Button's race pace was faster than Hamilton's but they wore their tyres out at the same pace.
If you're going to drive slowly to look after the tyres, you're going to get beaten. So what you need is the set-up to allow you to drive quickly at the same time, which is what Button had.
Hamilton didn't look a happy bunny after the race, but he didn't do much wrong. He just didn't get quite enough right, and then the safety car caught him out.
He would probably have held on to second place if it had not been for that.
It would have been hard for Sebastian Vettel to pass him in conventional fashion using the DRS overtaking aid because the McLaren was faster on the straights.
Vettel would have had to harass him and try to dive up the inside somewhere else.
McLaren called the first pit stops too late. They dropped a second, then another second and then they brought Button in.
Hamilton had to wait another lap and that lost him four seconds. That would be my biggest disappointment in the team if I was him.
McLaren got away with that because they were so strong in the first stint, while Vettel was still battling past other cars.
It was no-one's fault that Vettel passed Hamilton when the safety car was deployed.
McLaren stopped their cars on the same lap, which they could do because Button had a big enough margin to Hamilton, who could in straight afterwards without losing time.
But when the safety car came out almost immediately afterwards, Vettel was inside the last circuit sector so could keep the hammer down.
Hamilton, meanwhile, had to slow down to the required caution speed. So he got caught. It happens.
McLaren look like they're going to have a good year, but whether they can stay ahead depends on their pace of development compared to the others.
RED BULL
Red Bull were more competitive in the race than in qualifying. The reason for that was probably that the track offered more grip as more rubber was laid down in the race.
That changes the relative competitiveness of the cars - if your car lacks a little grip, you pick up a lot more from the extra rubber.
MERCEDES
Mercedes slipped back badly in the race after a strong qualifying and that was because they used up their tyres quicker than the others.
That was a fundamental problem last year, so it appears for now as if they have not fixed it.
But it would be wise to give Mercedes a couple of races to find out where they are because clearly they had a bad day.
FERRARI
Ferrari finished fifth with Fernando Alonso, which was a good result for them after he qualified 12th. But that result flattered the car.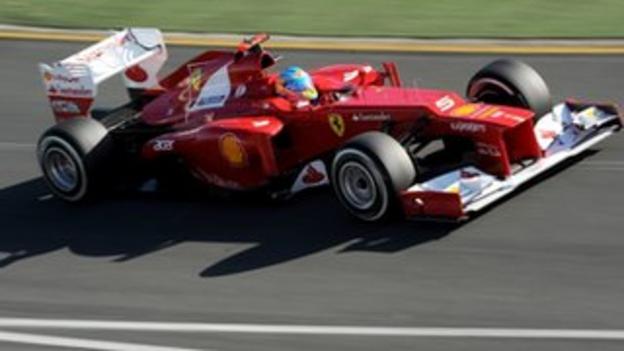 They would probably say they got away with that one, but they're not going to get away with many more because there are plenty of people who might well have finished ahead of them.
Both Lotus drivers should probably have been there, possibly a Mercedes, and the Williams looks strong enough to be a pain, too.
TECHNICAL REVIEW
MERCEDES
Mercedes were the focus of controversy in Melbourne because of their DRS-operated 'F-duct' speed boost system.
I've been poking around near the car and it's clear how it works.
When the DRS overtaking aid opens on the rear wing, it reveals a hole in the endplates.
That allows the underneath of the front wing, which is at a low pressure, to suck air from there right through the car.
It goes down the endplates, along the lower beam wing, through some pipes and ducting in the cockpit, down the front wing pillars, into the front wing and out of a slots on the bottom of the front wing.
That reduces the front downforce of the car, which has two effects.
It cuts drag, therefore boosting straight-line speed even more than it already would be just by opening the DRS flap.
But it also makes the car more balanced front to rear in high-speed corners in practice and qualifying, where DRS use is free, because the main problem with F1 cars in fast corners is they have too much front downforce.
They'll have a restrictor in there that they can change from track to track depending on need.
Unless it's banned, the others will probably all have something similar on by Barcelona in May - but it's a very expensive thing for a small gain.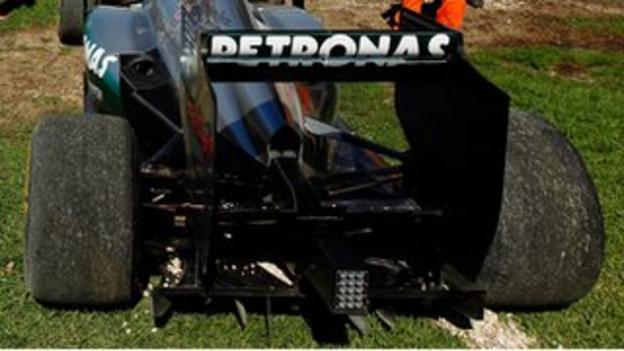 It means new rear-wing endplates and tubes in the beam wing and through the car, plus lots of new rear-wing endplates. You're looking at £150-200,000 to develop it.
And all the others will have to move their DRS actuation system. On the Mercedes it's in the rear-wing endplates, which is what allows them to have the hole, which otherwise is illegal. The others all have theirs in the centre of the wing.
I'm not sure they get that much advantage out of it.
Their straight line speed is not as good as the McLaren, which has the same engine and the car is not as consistent.
If it did really work well you might get 0.1-0.2secs a lap, which is a lot of time, but how much engineering has gone in to get that to work, and is it always helping you?
Those are the questions that will be asked.
Gary Anderson was talking to Andrew Benson